Recomendo
Travel pillow/Library Extension/Remote working tips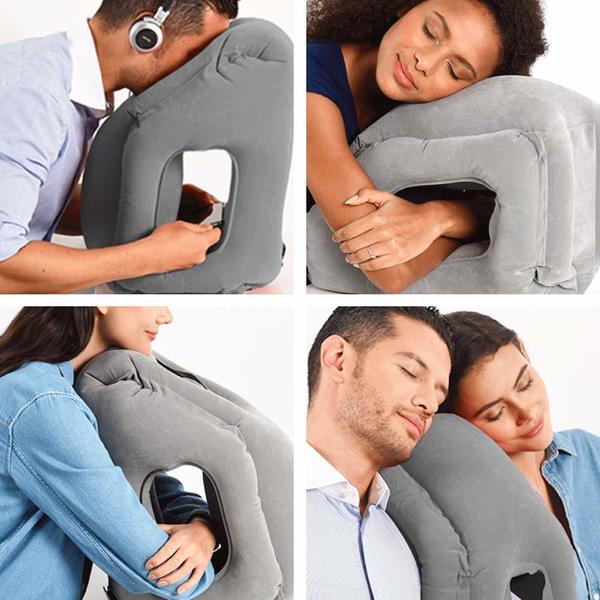 Recomendo: issue no. 182
Check out our paperback book Four Favorite Tools: Fantastic tools by 150 notable creators, available in both Color or B&W on Amazon.
Best travel pillow
My 22-year-old daughter used this Ralthy inflatable travel pillow ($17) to snag 9 hours of uninterrupted sleep on a recent flight to Singapore. You set the pillow on your meal tray or your lap and lean forward into it, placing your head in the hole, like you would on a massage chair. I just bought another so I can use it on an upcoming flight to Japan. — MF
Library vs Amazon
Remember libraries, where content is free? Library Extension is a browser extension that will tell you whether a book you are looking at on an Amazon page is available in your local library. If it is you can click on the button to put a hold on the book, or find which branch has it. Very nicely done. Like libraries it's free. Works on Chrome and Firefox. — KK
Work from home successfully
I work from home four days a week and what helps me be most productive is having a separate work space (not in a bedroom) with lots of natural light, getting dressed as if I'm going to the office, sticking to a 9-5 schedule, and giving myself short breaks every hour to walk around or cuddle with my dog. This article on How to Work From Home and Actually Get Stuff Done has a lot more suggestions for productivity. Eating lunch away from my desk is something I have to get better at, and one thing I hadn't considered is to do some work before breakfast: "The usual recommendation is to start with a healthy breakfast, to fuel you for your busy day ahead. However, when you're home all day, breakfast can be a drawn-out luxury, with reading, checking social media, and other distractions preventing you from getting started. Try diving into a quick work task, checking it off the list, and then sitting down to breakfast." — CD
A better way to connect to stubborn airport WiFi
A while back I recommended some troubleshooting tips for forcing a public Wi-Fi login page to open. A Recomendo reader ("J.C.") sent me a superior tip: just enter "http://neverssl.com" and the access point's login page will load. On my last trip I used it at the airport and on the plane and it worked like a charm. — MF
Extend the life of your produce
My husband bought these Rubbermaid FreshWorks Containers ($27, set of 3), which prevents produce from spoiling by keeping excess moisture away, and for the first time ever, I was able to finish a bag of spinach without it going bad. Usually I have to throw out my spinach after a week or less, but this container kept it fresh for more than two weeks. It's amazing! — CD
Cheaper car charging
Setting up a charger in your garage to charge an electric car is currently more complicated than it should be. This primer in Forbes by Brad Templeton is a good rundown on what to expect and how to do it the cheapest.  — KK
Sign up here to get Recomendo a week early in your inbox.
01/19/20