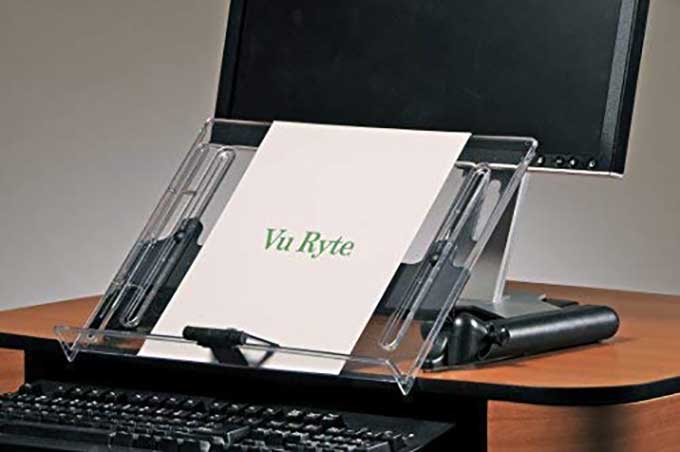 Easel for keyboardists
I've had the Vu Ryte Adjustable Document Copy Holder ($43) for about four years. It's very helpful when copying a lot of text into one's computer from a document or book. It's for use with a desktop computer; it fits in between the keyboard and the screen. It holds books open with an adjustable friction-type "easel clip" attached to the lip on the bottom of the easel. It can cope with books up to 2 inches thick (says the seller). A few commenters say it can be used as a base for handwriting, but the seller doesn't recommend that except for very light-duty use. The height of the easel above the base can be adjusted, as can its slant. A 1.5-inch-deep, flexible, transparent line guide can be slid down from paragraph to paragraph as you are copying; its height above the easel can be adjusted at its slider-mount to match the thickness of the book you are working with. (When copying from paper sheets it would be set to its lowest height.) Its legs are weighted and have rubber "Micro Suction Stabilizers that grab the desktop," to keep it from sliding.
The vendor says, "The easel is fully adjustable in height for split level or sit-stand workstations by actually dropping [the lower edge of the easel] below the desktop if such is desired." This is part of its height-adjustment feature. The vendor also suggests using it in the kitchen to hold cookbooks open to the recipe one is working with. Perhaps there are workshop applications where it would be similarly helpful to hold a book open to a specific page. It's a bit complicated to assemble, partly because the instructions aren't perfect, and partly because of the many unfamiliar adjustment points that need to be connected in seemingly strange ways. There should be an online video about the assembly process. The seller only provides a 50-second video of it being used. (It's still helpful to watch, FWIW.) This 18-inch version got 4.0 stars on 6 Amazon reviews. (The rating would have been higher except for two 3-star reviews, one complaining of a crack (presumably during shipping) and another saying that he couldn't rate it because he bought it as a gift for someone else whom he couldn't contact.) The rating for the better-selling 14-inch version is 4.7 stars on 21 reviews.
I get the impression, from looking at comparable items, that the Vu Ryte is a best buy; Amazon calls it "top-rated."
It's $43. The 14-inch version is available for $40, but unless you're sure the base of your monitor is narrower than 13 1/4 inches, I wouldn't buy it. In addition, I like having something that can easily handle wider-than-normal books. OTOH, the Amazon buyers of the 14-inch version aren't complaining.
01/10/19