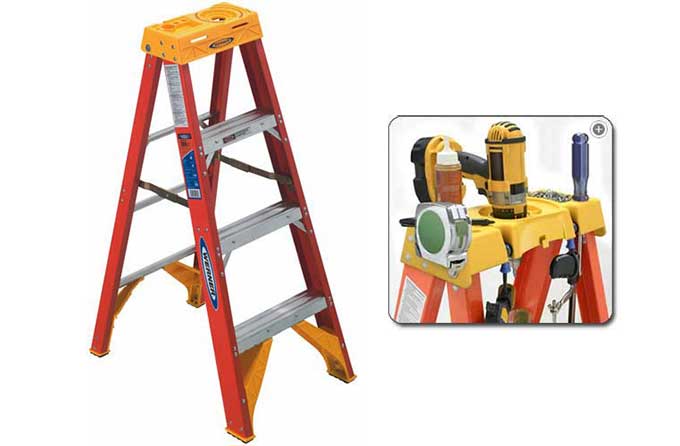 Lightweight elevation
I've owned this Werner stepladder ($73) for a few years now and find myself using it so much that I had to submit a write-up to Cool Tools touting its virtues. I purchased the Werner I when was looking for something larger than a step stool but not a full blown 6 to 8-foot ladder to do some house painting. Since purchasing it I have used this on countless painting jobs and small house projects.
It's the perfect size to cut in around a ceiling, change light bulbs, hang curtains, even washing the roof of my wife's SUV. It has a large hole in the top where I stash my drill when I'm working on something, it has places to put a handful of screws, and a couple holders for screwdrivers so I don't have to go up and down the ladder as much. I have larger ladders for jobs that require more height but for the amount I need a reach something I find myself pulling the 4-footer out almost weekly whereas larger ladders maybe a couple times a year.
It's lightweight making it easy to carry around yet feels incredibly sturdy when I'm on it. The 4-ft size makes it easy to cart around the house especially up and down stairs without banging into everything and it can be stored in a closet for easy access or if you don't have a garage or basement. Werners can be purchased at any big box store or online. My only complaint is that the hinges are a bit stiff for setting up but that might lend to it feeling so solid underfoot. After years of use the only wear and tear it shows is some paint drips. I highly recommend this ladder as a cool tool and consider it a must have.
09/5/19
Werner stepladder, 4-Foot ($73)