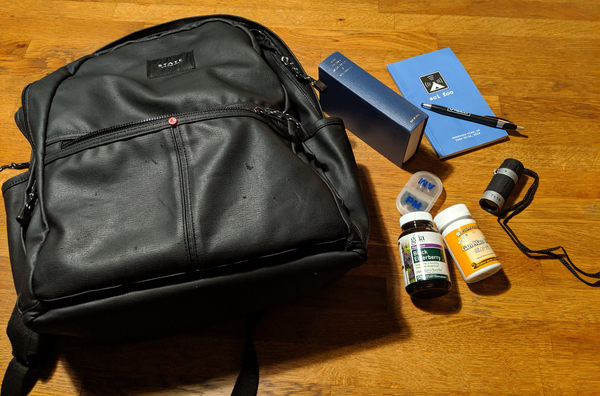 What's in my bag? issue #13
Sign up here to get What's in my bag? a week early in your inbox
Tim O'Reilly is the Founder and CEO of O'Reilly Media and board member of Code for America. He is the author of WTF? What's the Future and Why It's Up to Us. His company mission is to change the world by spreading the knowledge of innovators, and to create more value than it captures, thus creating a more sustainable circular economy. He is currently working out how this principle ought to be applied by big tech platform companies. He can be found on Twitter as @timoreilly.
Gan Mao Ling and Black Elderberry ($8-$14)
I find this combo to be incredibly helpful if I take it when I feel cold symptoms start to come on (and every four hours thereafter till they go away). But if you don't catch it right away, it doesn't work, so the little pill box with a few doses lives right in my bag. (The bottles are just for show.)
A paper notebook and pen
I always carry one with me. It's often in my pocket, but I keep it in my bag when it isn't there. Paper notes are still a thing for me. I use notebooks that my own company hands out at Foo Camp, since they are just the right size for my back pocket.
Mini Monocular ($20)
Whether I'm outdoors wanting a closer look at a bird, animal, or the trail ahead, or in a historical monument looking up at frescoes on the ceiling or an architectural detail, this is a cheap augmentation. I got my first monocular at a flea market in Beijing, and haven't been without one since. My current favorite is the Roxant 7×18 pocket scope. It does indeed fit in my pocket.
A paper book
I'm particularly fond of the generation of small hardbacks that preceded the paperback revolution. My favorite of all are the Tauschnitz railway editions of great English literature from the 1860s to 1880s, which actually were paperbacks, but people took them home and had them bound, so every one is unique. But the little Oxford editions from the 1930s and 1940s are pretty sweet too. I've been reading Trollope's political novels lately — great perspective on a prior period of class struggle, and the beginnings of a "woke" consciousness about privilege.
About the bag
This is a State backpack, which I was given as a speaker gift recently. It replaced a Timbuktu backpack that I'd used for years, and was now worn out. It took a bit of getting used to the new layout, but now I like it a lot.
09/4/19