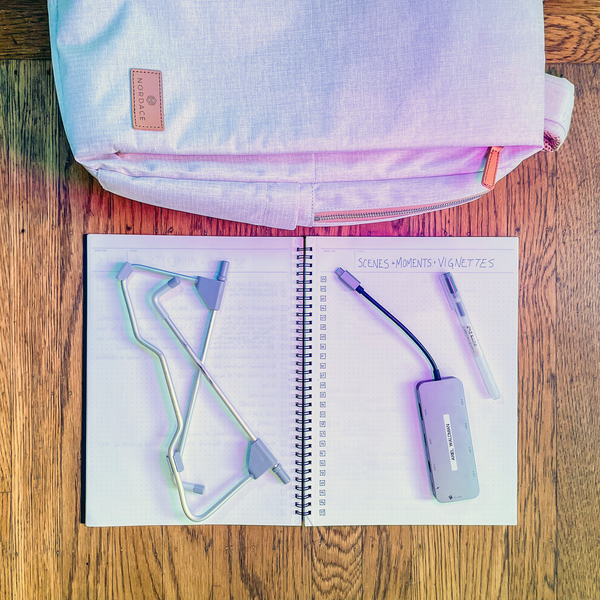 What's in my bag? issue #92
Sign up here to get What's in my bag? a week early in your inbox.
Ariel Waldman is the chair of the council for NASA's Innovative Advanced Concepts program. As PI, she led an expedition to Antarctica to film microscopic life under the ice. She is a National Geographic Explorer and received an honor from the Obama White House as a Champion of Change in citizen science. You can find Ariel on YouTube @ youtube.com/arielwaldman.
About the bag
Nordace Siena – Smart Backpack ($100)
This has been my go-to backpack for the last year. I like that it can expand significantly, but also collapse down to a slimmer profile when not filled up. Lots of different pockets, a water bottle holder, and two separate zippered sections have made it into the versatile bag I need. My only minor criticism is that I usually keep the shoulder straps on their tightest-possible length to get the backpack to fit me the way I want it to, but that might be specific to just me.
What's inside the bag
Muji Gel Ink Ball Point Pen, 0.38-mm, Black ($18, 10pc)
A trusty, precise pen that pairs perfectly with gridded notebooks. This is my most-used pen. It's not for scribbling quickly, but instead for very thoughtful precision when you're wanting to carefully map out ideas, drawings, or to-do lists. It also fits perfectly inside the ring-binding of the notebooks I use.
Maruman MNEMOSYNE Notebook, A4 size with a 5mm dot grid ($18)
I love Mnemosyne notebooks and I love dot-grids. I am working on a new book proposal and bought a couple of these to sketch out a couple of different concepts in. I find that getting a large notebook (~8×11″) that is more cumbersome to carry around can sometimes help give you a needed push to actually use it instead of throwing it in a pocket "just in case." In general, I find pen and paper better for brainstorming.
Portable Laptop Stand (out of stock, similar version, $16)
This is a super useful thing I have in my backpack at all times to keep me from injuring my neck due to poor ergonomics. Having a laptop stand that is super lightweight and unobtrusive always comes in handy. Anything you can do to keep your screen closer to eye level is always worth it.
ICZI 10 in 1 USB Type C Dongle ($48)
This is my "everything" dongle. So far, I've only needed it and nothing else to be able to plug everything into my MacBook Pro. There are a lot of similar dongles that don't seem to include everything this one does. The full list is: 4x USB 3.0 ports, a HDMI port, a VGA port, an Ethernet port, a Type C PD 3.0 port, a SD Card Slot, and a Micro SD Slot. For some people, this would be overkill, but for me it's perfect. In Antarctica, having an ethernet port is super useful; when giving lectures to classrooms, many still use VGA, and having the SD/Micro SD slots continue to be useful for all sorts of cameras. I want to know that if I just remember to bring a single dongle that I'm going to have everything I need.
03/10/21