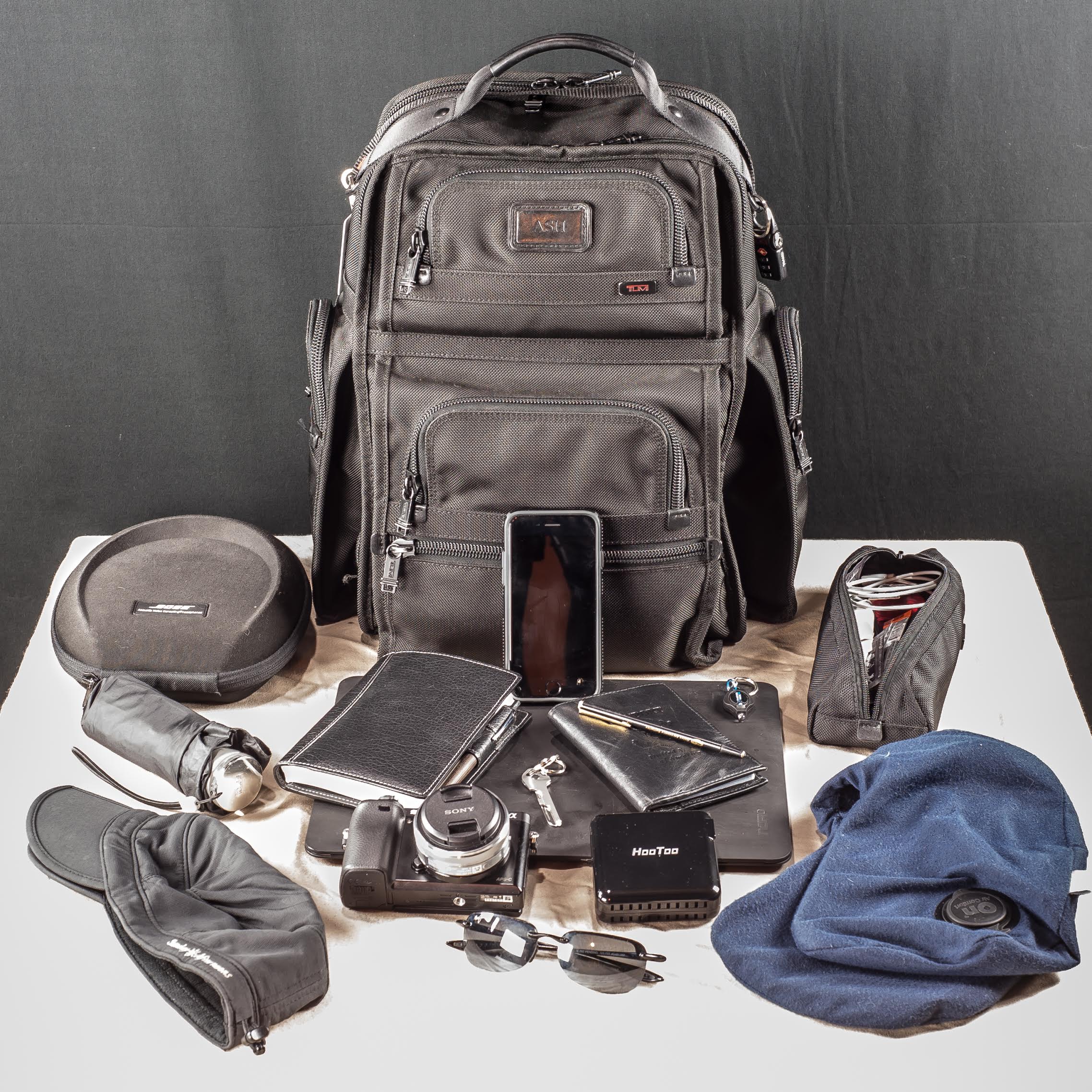 A globetrotting energy consultant shares his travel must-haves
I am a consultant in the energy storage field, which is truly a global activity. This ends up requiring a lot of international as well as domestic travel, however I am fortunate in that I don't have to carry around any bulky, specialized equipment. To put it another way, if you saw the 2009 movie "Up in the Air" and said to yourself, "Hey, I'm just like George Clooney!" then you are:
A: Semi-delusional
B: Absolutely the target audience for this article.
Let's start with the bag. I have gone through a lot of bags over my career and there was always some reason to move on and try something new. For the past couple of years however, the search has been put on hold. First, I have landed on the backpack style bag, as it suits my particular travel style. With this in mind, I've settled on the Tumi Alpha T-pass style backpack ($497) (nylon for me rather than leather). Pluses of the bag are many. First and foremost it has bulletproof construction, the importance of which can't be overestimated. The only issue I have had with the construction of the bag was when my Border Collie ate through a strap. How Tumi didn't anticipate this is beyond me, but what's done is done. Moving on, it has just the right mix of specialized storage compartments in combination with a large general storage area (like a rucksack). It looks professional, and while large, it is relatively inconspicuous. It has the fold out laptop compartment feature that allows you to keep the laptop in the bag through TSA, but being an international Global Entry member, and therefore a TSA Pre-check member, that doesn't really matter anymore. Finally, it has a killer feature in the backpack world in that it actually stands up when you put it down. Tell me how annoying it is to put down any other backpack and have it fall over all the time. Am I right? Downsides to the bag are basically the price tag. I was able to snag it off some online sale for about half price, making it simply overpriced rather than ridiculously overpriced.
Before we get into the details of the contents, here is a quick tip. There is nothing in the bag that I use outside my travel schedule except for the computer and the phone. Everything in the bag is dedicated to the bag, and I never have to check what's in the bag, or not in the bag, when it's time to leave. I'm just saying, buying a few "redundant" items is well worth the price.
On to the specific contents. For better or worse I am all in on the Apple ecosystem, so at the moment we are talking about an IPhone 6 and a 13-inch MacBook Air with a very nice Incipio matte black shell ($48). My work is too complicated for just an iPad, so a phone and computer works, and all three seems a little excessive. If you prefer to read books rather than listen on Audible, I suppose an iPad mini or Kindle would not be excessive (since they each weigh less than one book), so I think the judges would allow it. I've got a cheap universal travel plug from Monoprice ($10) that is there for international jaunts. I also carry a HooToo Tripmate Elite ($38) which is a combination personal wifi router, USB streaming hub, USB wall charger, and external battery that will power the phone for a couple of charges. (That's a lot of stuff for such a compact device.) Just the external battery function alone is worth it and it gets charged before every trip. As a supposed expert in energy storage, I can confirm that it is surprisingly ineffective without this step. I do have a set of the Bose Noise Cancelling headphones because they are comfortable for long periods of time, but carry a backup set of buds just in case. I also have a small but powerful Sony NEX camera (the line is currently going through another one of their inexplicable model naming changes). As an amateur photographer, I may make the commitment to have a somewhat better camera with me on certain trips, although it is fair to say that the iPhone is a pretty damn good camera on its own.
I have one gadget bag supplied by Tumi that I use to store all the assorted accessory dongles etc. When it's full, I make it a rule that something has to come out before something new goes in, which is the same rule I have for dining in China. Right now I have, in no particular order: mini/micro USB cables, phone cable, VGA dongle, ethernet dongle, mini phone tripod, thumb drive, small cable lock, a few assorted cable ties and straps, earbud type headphones, 12 v car adaptor, KENU airframe car phone holder ($19), folding reading glasses and finally, as many packs of Starbucks Via instant coffee as I can carry.
Next we have your basic non-electronic necessities. I have a small travel umbrella from Totes ($18), which is extremely useful and was picked because it fits in the side pocket of my bag and is cheap enough to lose without regret. I have a clever little folding brim baseball cap that takes very little room. There is a Lewis and Clark blow up travel pillow ($15) that isn't all that comfortable but still has saved my neck (literally) on a number of occasions. I've got a really nice A6 sized leather notebook cover that I bought in Tokyo. It has a loop locking mechanism that uses a pen as the lock, and I personally like the Hobonichi day planner notebook as the internals. Japan, by the way, is the home of the best stationary type stuff you can find. Go to the Ito-Ya store in the Ginza in Tokyo if you get a chance, very cool. I have a Swiss Tech multi tool ($8) that is small and useful (it opens beer bottles, so really useful), and a small LED light is in there somewhere. I carry a few spare pens, a mechanical pointer, business cards, and of course my passport is always with me. I have a super lightweight pair of Maui Jim sunglasses that stay in the bag strictly for travel, and I carry a bare minimum of niceties such as tissues, ibuprofen, breath mints, etc. I have a very cheap, lightweight plastic portfolio that I use to store any dead tree papers that I either need to bring or collect along the way, and it fits easily into a pouch inside the main compartment of the bag.
The only "defensive" item on the list might be the gallon sized zip lock bag I carry which contains (exactly) one pair of travel underwear, a thin pair of dress socks, a small travel deodorant, a travel toothbrush, and a disposable razor. This little kit is really light, fits in the bottom of the bag and has saved my bacon a number of times. I never really intend to check a bag, but sometimes things happen and if you do get separated from your travel bag for more than a day, these minimal items can extend your useful shelf-life a day or so until you either find your bag, or get out to buy the necessities needed to keep going. And, have you ever been on an extended trip where you need to leave your home base hotel for just an overnight? Throw an extra shirt in the backpack, leave the suitcase at the hotel, and you are just fine for a night away.
So that's a wrap. The bag with these contents weighs about 15 pounds and always has plenty of room to throw in more stuff that might accumulate along the way. It is a good size, but discreet enough in styling that it doesn't attract much attention, and that's just the way I want it. If you are the type of person whose martini typically comes out of a tiny bottle, then cheers and safe travels.
06/10/16