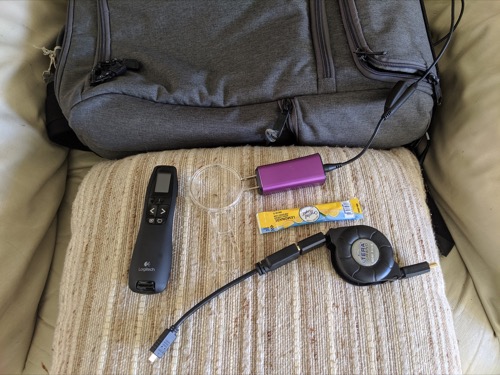 What's in my bag? issue #15
Sign up here to get What's in my bag? a week early in your inbox.
Brad Templeton is the Founder of ClariNet (the first ever dot.com), Chairman Emeritus of EFF, and Founding Faculty of Singularity University. Today, he is writing, speaking and consulting on Robocars. You can find him on Twitter at @bradtem.
Retractable HDMI cable and dongle ($13)
As a person who does lots of presentations, this is very handy to have. It also means you can be in hotel rooms and connect your laptop to the HDTV. Most of those TVs are not in a place where it's easy to put your computer near them.
Logitech R800 Wireless Presenter Remote ($50)
Most people you give a talk to have a remote and many have a timer. But not all, so I am prepared with this remote which also includes a timer. Sadly, you sometimes leave these behind, so you'll buy more than one!
FINsix Dart Lightweight PC Charger ($80)
This charger is super small and light, comes with different tips to power various devices, and includes a fast USB charger. My model is no longer available but there are other chargers like it — you don't need to carry a giant brick.
Crystal Light "On the Go" Lemonade ($9/20pk)
I like diet drinks but not diet coke, which is about all you can get in most places. (If they have two choices, the other is Coke Zero!) These packets turn any water bottle into a nice drink.
About the bag
It's an eBags Pro Slim Laptop Backpack ($140). I like the wide variety of organizing pockets, the trolley sleeve, the laptop padding and the non-backpack look. On the other hand, it's much too heavy and it doesn't expand at all, which has caused problems.
09/18/19