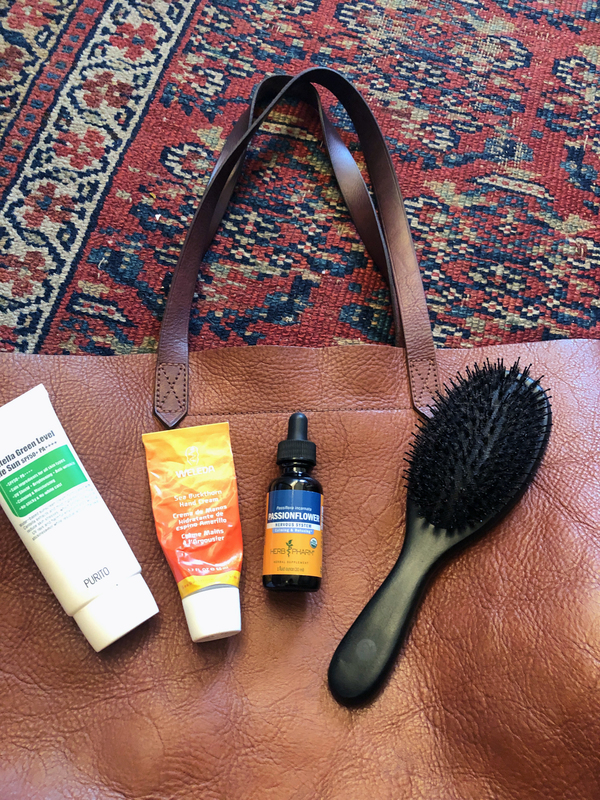 What's in my bag? issue #23
Sign up here to get What's in my bag? a week early in your inbox.
Catherine Andrews is a writer and personal development strategist living in Washington, D.C. She helps folks access and improve their emotional intelligence, get past impostor syndrome, and bring their full selves to the workplace — and all of life. She's also the author of the popular Sunday Soother newsletter, where she writes personal and humorous essays about trying (sometimes succeeding, sometimes failing) to live a more meaningful and intentional life. You can find her on Instagram @catherineandrews.
PURITO Centella Green Level SPF50+ Sun Cream ($15)
I am incredibly vain, and for me, being incredibly vain means, as I near 40, obsessing about the state of my skin. And obsessing about the state of my skin means obsessing about my sunscreen. I have acne-prone, easily irritated skin and this soothing sunscreen is SPF 50+, affordable ($15!) and acts as a lovely moisturizer and primer for my makeup. I'm always reapplying.
Weleda Hand Cream ($12)
Weleda makes some of the best moisturizers out there, in my opinion, and I love this hand cream — it goes on pretty thick and creamy, but ends up feeling lightweight and soft. I hate an extra-greasy hand cream, so I appreciate that this one doesn't leave me feeling like I've just dipped my hands in a vat of Crisco.
Herb Pharm Passionflower Extract ($11)
I'd been on anti-anxiety meds for several years and, for a variety of reasons, transitioned off them earlier this spring — at the same time I was developing an interest in homeopathic and natural solutions. This passionflower extract is great for those moments of anxiety or panic I still occasionally get. Do I look strange popping it out by an airplane gate and tipping my head back to take in the liquid via the glass dropper? Yes. Am I soothed afterwards? Also yes.
Boar Bristle Hair Brush for Men & Women ($16)
I have fine, easily ruffled hair and I am obsessed with brushing it constantly to make it look smooth so I can feel semi put-together, rather than I've just rolled around on a subway grate. I use this brush like 6 times a day. I heard somewhere it was a dupe for that famous Mason-Pearson brush, which is something I will never be able to confirm, because not even I am crazy enough to spend over $200 on a hairbrush. But this one is fantastic.
About the bag
The bag is Madewell's Transport Tote  ($168), which my little sister gave me for Christmas one year when she was working there. I can't say it's super functional — it literally has no pockets or compartments — but you can't beat it for the style. I get compliments on it all the time.
11/13/19