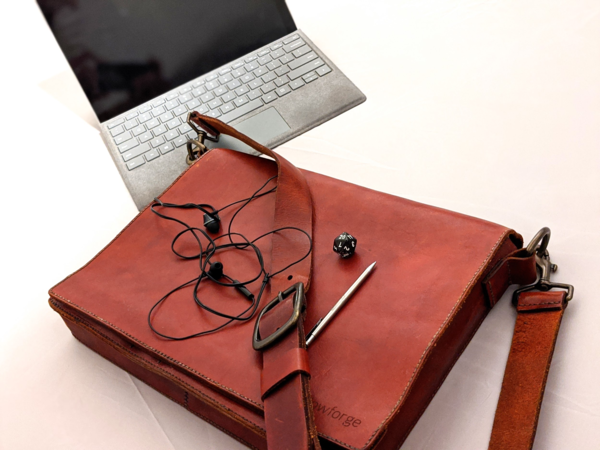 What's in my bag? issue #44
Sign up here to get What's in my bag? a week early in your inbox.
Dan Shapiro is the founder of Glowforge, the company behind the Glowforge 3D Laser Printer. He's also the author of Hot Seat: The Startup CEO Guidebook and the inventor of Robot Turtles: The Game for Little Programmers. He and his wife Leslie are sheltering in place, educating their fifth grade twins from the basement. He's just launched shapiroschool.org, which you might enjoy if you've got basement kids of your own. You can also find him on instagram at @danshapirosea and Twitter at @danshapiro.
About the bag
When we were founding Glowforge, I bet my cofounder that I could print a custom satchel. He was skeptical. Together we mocked it out of sticky notes and Scotch tape. I included a magnetic clasp, custom pockets, a stitched in Bluetooth tracker, and a secret document pouch. It feels soft yet tough, it feels more my own than anything else I own, and it turned five years old a few months ago. Strangers still ask me where I bought it.
No, you can't see what's in the secret pouch. Then it wouldn't be a secret.
What's inside the bag
Microsoft Surface Pro
I don't remember which model, and I don't care. I finally decided that I was going to carry the lightest damn thing that would run Adobe Creative Cloud. I bought the v1, and when it broke four years later, I bought another one. It's great, it's fast, the keyboard is surprisingly unterrible, and it weighs less than the bag.
Zebra mechanical pencil ($6)
It's tiny. It's light. It works. I'm pretty sure I found it by running down a Frauenfelder rabbit hole starting here, and then looking for something lighter. Paper I'll grab fistfuls of and scribble on as needed, but a good pencil – you can't find that anywhere.
A very cheap d20 from the bottom of a game store dice bin
This poorly-printed chunk of plastic means a lot to me. First, because it represents something I'm striving to do better: make room for voices in my industry that usually don't get heard. You can learn about why this means that in this blog post, "Fellow white dudes, let's roll a d20". Second, because when I'm trying to keep my mouth shut, I can fidget with it. And last but not least, because it means I'm always ready for an emergency game of 5e D&D with my wife and 11 year old twins.
Panasonic ErgoFit In-Ear Earbud Headphones ($9)
I have been tempted by Airpods. So sleek! So white! Then I remember. I lose about five of these a year. Fortunately, that sets you back nine bucks each. They sound good and they double as earplugs when sleeping. The mic is surprisingly passable. Just don't make the mistake I did and buy the cool purple ones if you have kids in the house — they steal them immediately. Also, some of the colors don't have microphones. Be sure the picture shows the microphone before you buy. And don't forget a USB-C adapter for the headphone jack if your phone's manufacturer hates you and all that is good in the world.
One last note: I'm not using my bag these days. Instead, I'm working from home to keep everyone safe. I hope you are too.
04/8/20