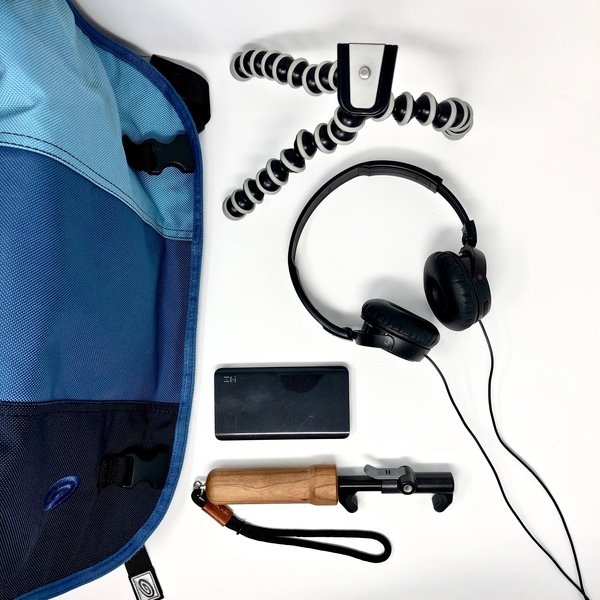 What's in my bag? issue #9
Sign up here to get What's in my bag? a week early in your inbox
Glenn Fleishman is a tech journalist and print historian who writes breaking news from the 19th and 21st centuries. His most recent project is the Tiny Type Museum & Time Capsule, an edition of 100 small museums packed with genuine type and printing artifacts. You can find him on Twitter @GlennF.
GorillaPod ($20 and up)
I still use an original GorillaPod, even though many newer models exist, because the one I bought forever ago still has legs—literally and figuratively! With the legs comprising mostly pivot joints that can hold a fair amount of weight, the GorillaPod holds both my iPhone (with Glif adapter) or mirrorless camera and keeps it in the right position. That includes wrapping itself around a post or tree limb, when the need arises. I'm almost never in a position to carry a full-sized tripod, but want a tripod's advantages.
Sony Noise-Cancelling Headphones ($30)
I know you can spend a fortune on noise-canceling headphones, but I wanted something compact and which folds into itself, but is cheap enough I won't feel bad if they get damaged after jamming them into my bag and jostling them around. This Sony pair isn't full-ear, but it meets all my needs and has lasted a whopping two years so far. Powered by a single AAA—a rechargeable lasts for more hours than I've managed to track—it dims airplane and café noise well enough to sleep or work.
ZMI 10,000mAh USB battery pack ($22)
This is my favorite USB battery pack for recharging a phone. It's by far the best combination of size, weight, form, design, and recharge speed. It can fully recharge my iPhone 8 Plus a couple times or more from empty, and it charges quickly. I can never quite believe it holds the juice it does. It helps at the end of a long day when the phone's power lags or when flying on planes without power jacks.
Studio Neat Glif ($28 by itself; $55 with grip and strap)
The Glif was the first iPhone tripod adapter, and the folks at Studio Neat took it to a new level with the revision, which uses a cleverly designed spring lock to work with any model smartphone. With three tripod screws, I can mount it any orientation that I need. It's a great help to take stable iPhone shots while traveling or shoot a long video, and I can lift it up over my head with the handle to take shots or video above a crowd.
About the bag
It's a Timbuk2. I don't travel light and it's one of their bigger messenger bags. I customized it with three shades blue and maybe paid $100 for it … a decade ago? You can barely tell that it's been used, and it still meets my around-town and long-haul flying needs.
08/7/19