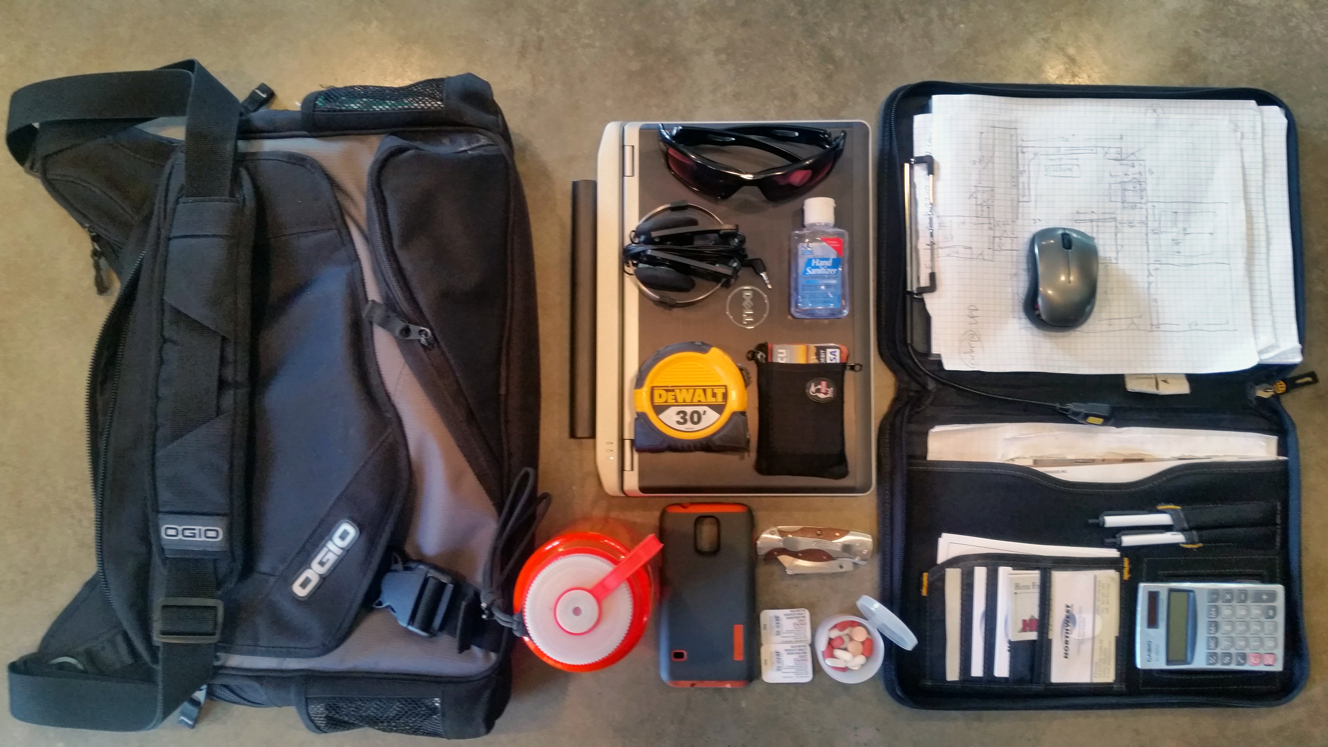 What a fire and water restoration estimator needs out in the field
I am an estimator and project manager for Northwest Professional Services, a cleaning and restoration company. This is my everyday carry bag for days out in the field.
The bag:
OGIO Hip Hop Messenger
Dumb name but truly an amazing bag. This thing is perfectly laid out for everything I need even if it just a little outdated (the cellphone pocket was clearly designed for a flip-phone). So, you can keep your single compartment leather satchel, I'll stick to this one.
What's inside:
Dell Latitude E6230 (Used and new from $345)
Truthfully, I could maybe get by with a really nice chromebook for about 70% of what I do (emailing, running Slack and Trello), but the software I use for writing insurance estimates for water and fire damage is heavily GPU intensive and also requires Windows. This machine has been a real workhorse.
32 oz Nalgene Water Bottle ($10)
Hydration … enough said.
Koss PortaPro Headphones ($40)
Although I recently replaced these with Sol Republic Shadow bluetooth buds, these are still my favorite cans of all time. Koss hasn't changed the design since 1984 and still continues to produce them. Maybe it's because they got things right with these the first time? In between job site visits, I spend a fair amount of time at coffee shops and libraries writing up repair estimates and emailing reports. The best way to put out the "do not disturb" vibe to people around you is to wear a pair of headphones (sometimes, I don't even plug them in).
Dewalt Tape measure ($23)
Yes, I've seen your fancy lazer. I like my tape.
Oakley Eyepatch II Sunglasses($150)
I do a lot of driving in between job sites to measure and inspect, and these are a life saver in the summer.
Chums Surfshort Wallet ($10)
My qualifications for the perfect wallet are simple: compact, only needs to hold credit and business cards, and will survive getting wet. The bonus with this one is that the card pockets on the sides zip shut, so I'll never have a card fall out accidentally.
Folding utility blade knife ($8)
I never know when I will have to cut into something when inspecting water damage jobs. Sometimes it means opening sheetrock to chase down a pipe that has split, or taking a carpet sample to match for replacement. I have a few really nice folding pocket knives but nothing beats just popping in a new utility blade for instant razor sharpness.
Galaxy S5 Phone (free w/ Verizon plan)
My phone is probably the most used tool in my arsenal. I use the GPS to map routes from job to job, camera to upload pics to Slack so my team can see what I'm sending them in to deal with, and of course communicate with home owners, sub-contractors, and insurance adjusters. I also track my work hours on it. I recently replaced this one with an iPhone 7 (pictures of flooded basements and moldy sheetrock have never looked so beautiful).
Dewalt Pro Contractor's Portfolio ($19)
I was wooed into buying this originally because of the tiny LED gooseneck light and the built in calculator. The light broke in the first week and the calculator followed suit soon after, prompting me to velcro my own calculator directly over it.
Logitech Marathon Mouse M705 ($29)
Best mouse ever. Compact, wireless, full of customizable shortcut buttons.
Other necessities:
Rescue meds for migraine and assorted allergy meds, etc.
Stress brings on my migraines and having a job that is built on helping people through unexpected emergencies brings on plenty of it.
Hand Sanitizer
The ironic part about writing estimates for a cleaning company is that all the job sites you visit are deplorably un-clean.
01/18/17