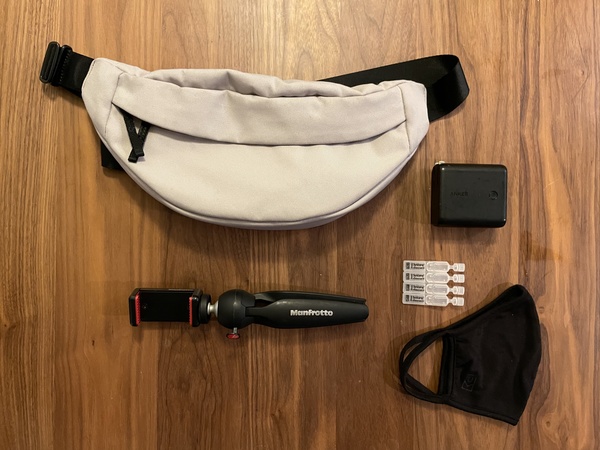 What's in my bag? issue #82
Jay Torres is a husband, father, engineer, nerd, and beer drinker. He's been writing on the web in some form since 2001. He currently lives in Orange County, CA and is just trying to figure things out. You can find Jay on YouTube and on Twitter @jaytorres.
About the bag
My bag is the ReNew Transit Bag from Everlane ($35). I bought this bag mainly to keep my pockets from being bogged down with the multiple items I have to carry everyday. I love that I can wear it traditionally around my waist or across my body like a sling.
What's inside the bag
Anker PowerCore Fusion 5000 ($30) – I love this charger not only because it can charge two devices at the same time, but it also doubles as a portable battery. You plug it into the wall and it charges your devices and charges itself. Brilliant.
Systane Lubricant Eye Drops ($21, 30ct) – I recently got LASIK and it was one of the best things that happened in 2020. One of the side effects is dry eye so I keep these tiny things in my bag.
Manfrotto mini tripod ($18) – I've recently started posting vlogs to my YouTube channel. I've been using my iPhone 12 Pro to take amazing 4K video but I've found this mini tripod essential when taking footage. It's small enough to fit in my bag and when folded it provides a handle for easy selfie recording.
Ugmonk Mask ($10) – Unfortunately, masks are a part of my daily life now. Fortunately, Ugmonk makes a high quality, comfortable mask.
12/30/20