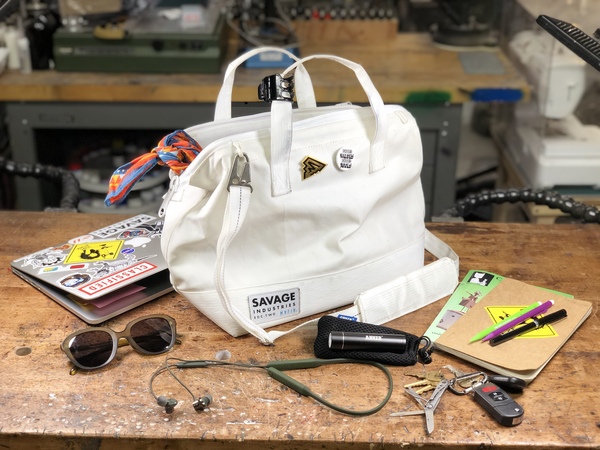 What's in my bag? issue #27
Sign up here to get What's in my bag? a week early in your inbox.
Jen Schachter is a maker and mastermind of big, collaborative builds — light-up letters for the Obama White House, an enormous 3D-printed Rosie the Riveter, and a replica of the Apollo 11 hatch for the Smithsonian. She recently relocated to San Francisco to work in the shop of legendary Mythbuster Adam Savage. You can find her on Instagram and Twitter @schac_attack.
Bullets 2 Wireless Headphones ($99)
I don't normally splurge on expensive headphones because of how prone I am to lose or break them, but these were given to me as a gift, and NOW I know what I was missing! The sound quality is awesome, but by far the best feature is the magnetic on/off feature. When you separate the earbuds, they turn on – snap them back together, and they turn off. They're never draining battery when not in use so they hold a charge forever. Out of the box, I used them on my commute for 2 weeks before having to charge them the first time!
Anker PowerCore+ mini 3350 USB Power Bank ($19)
I've had this little power bank for a few years and it's never failed me. It's so compact you can really take it with you anywhere. (It fits in the tiniest lady purses I have too.) When you're running low on juice on the road, you can plug in for a full charge instead of being tethered to a wall outlet for an hour. Check out Anker's site for tons of other capacity and size options.
Leatherman Style PS Keychain Multitool ($26)
Tiniest pocket knife I've ever seen. Don't tell TSA, but I've accidentally flown with it a few times undetected. I'm a stickler for keychain minimalism, and this micro multitool has never cramped my style. Because it's so small, I have it with me always, and reach for it nearly daily. Mine is the older version which is discontinued, but the Style PS got a nifty carabiner upgrade AND pliers!
Mafia EDC Two Bag ($145)
Can "what's in your bag" be your bag itself? It's no secret that I work for legendary Mythbuster Adam Savage at his shop in San Francisco. One of the many job perks is this slick tool bag he helped design. It's minimalist, utilitarian, and stylish, which pretty much checks all my boxes. Inspired by an early astronaut toolbag, it's made from recycled sailcloth and comes in black or white — which ages beautifully as it gets loved and lived in. Oh, and did I mention it's machine washable?
12/11/19