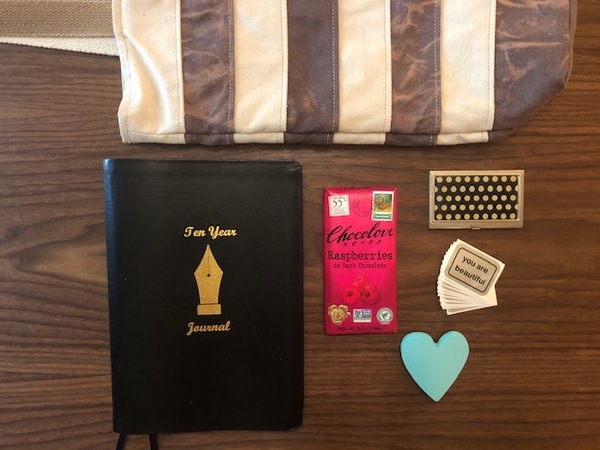 What's in my bag? issue #76
Sign up here to get What's in my bag? a week early in your inbox.
Julie van Amerongen lives and writes in Portland, Oregon. She is the author of Every.Single.Day: Unstoppable Lessons from a Year of Running and I Can Do Hard Things: How Small Steps Equal Big Impact and the founder of sendalovenote.com. Julie is currently walking every single street in Portland.
About the bag
This bag was a gift some dear friends brought back from India for me. I'm typically a backpack girl, but I love the depth of this one which makes it perfect for my yoga mat or for whatever I might want to take along on my neighborhood walks.
What's inside the bag
Ten Year Journal ($43): Even though it's bulky I often lug around my Ten Year Journal. I use it to record a few sentences chronicling my life every day. As the years go on you can compare what was happening in your life on any given day of a year. I also use it to keep myself honest by checking off my daily positive practices.
You are beautiful stickers ($10, 50pk): I've been sharing these stickers with friends and in unexpected places for years. I tuck them into envelopes when I mail things or make bank deposits, our mail carrier sees one each time she opens our mailbox… there are endless possibilities. I love the way they bring a smile to someone's face.
Metal business card holder: I used to use this little case as my wallet – just a license, credit card and maybe a little cash ready to go. These days my phone case is my wallet and since don't have much need to carry business cards in this climate I keep my You are beautiful stickers in it so I can have them with me wherever I go.
Chocolove Dark Chocolate Bars ($3): Since the pandemic started I've been buying these bars in quantity to share with friends and neighbors as a little pick me up. I love that the packaging makes them a ready-to-go gift. Occasionally I leave them anonymously for someone going through a difficult time and, to be sure, I enjoy them myself as well! I carry Post-it notes in my bag in case I want to add a message when I drop one off.
Note from Julie:
I invite you to contribute an anonymous LOVE NOTE to a collaborative creation. Your note can express love for family, friends, your dog or favorite political candidate! Or share your hopes and dreams… There are a lot of different kinds of love and ways to express it! Learn more here.
11/18/20