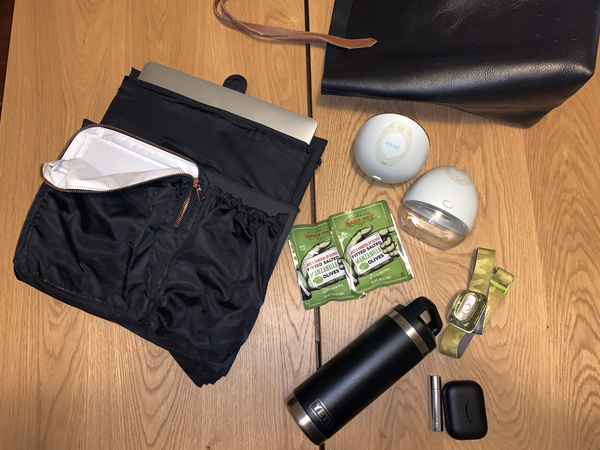 What's in my bag? issue #32
Sign up here to get What's in my bag? a week early in your inbox.
Juliette Devaney is a Senior Principal Product Manager at Amazon, working on emerging products. She lives in San Jose, CA with her husband and daughter.
About the bag
My bag is the Madewell Transport Tote ($168), which is the biggest tote they make. It's just a giant bag.
What's inside the bag
ToteSavvy Deluxe ($95)
I bought this bag insert because I needed a bigger bag, but unfortunately women's totes never have pockets. So this is a set of pockets that you can take in and out of your bag easily. This particular version has an insulated cooler pouch, which I use to store my breast milk after I extract. It also has a computer sleeve and a bunch of extra pockets for chargers, gizmos, doodads, and everything else that's basically in my bag. And strapped to the bottom is a rolled-up change mat for babies.
Elvie Hands-Free Wearable Breast Pumps ($500)
These are wearable breast pumps that I love because I can pump in traffic, in the elevator at work, in meetings, wherever. You name it, I pump there. It's very convenient.
Trader Joe's Pitted Salted Manzanilla Olives ($10/4pk)
These are my "just a handful" of pitted little olives. They're sold at Trader Joe's in individual pouches. They're delicious. Whenever I'm cranky, I tear one open and eat the whole pouch.
PETZL Tikka Headlamp ($30)
This is my PETZL headlamp, which is one of my favorite brands. It's a brand I use rock climbing a lot, but I keep it in my bag in case of an earthquake or a power outage when I'm staying at a hotel. I want to be the person that rescues people out of the building with my headlamp.
Bonus items
I always carry my YETI Rambler ($30). It's fantastic because I fill it with hot tea in the morning before I leave for work, and it stays hot all day. Also in my bag are my Alexa-enabled Echo buds ($129), which I was testing for work and I really liked them so I kept them. And my Clinique Repairwear Intensive Lip Treatment ($31), which keeps my lips nice and hydrated.
01/15/20