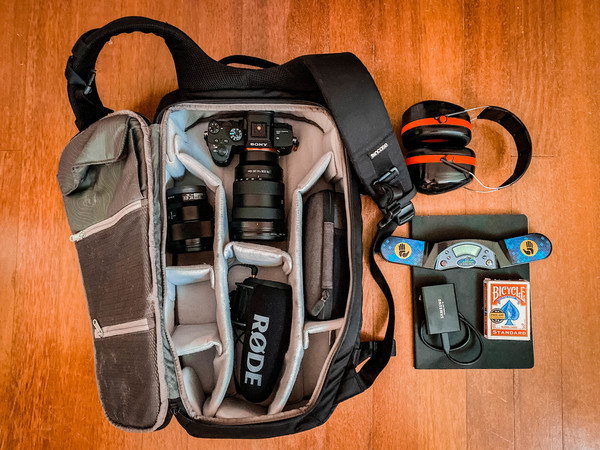 What's in my bag? issue #28
Sign up here to get What's in my bag? a week early in your inbox.
Nelson Dellis is 4x USA Memory Champion and one of the leading memory experts in the world, traveling around the world as a competitive Memory Athlete, Memory Consultant, Published Author and highly sought-after Keynote Speaker. Subscribe to his Youtube channel for tons of free content about memory improvement. You can also follow him on Instagram @nelzor.
3M Peltor Ear Protectors ($22)
When I'm on the go and need to concentrate or do some memory training, I use some heavy duty construction-grade noise blocking headphones to drown out the sounds. These give me my personal space and allow me to get work done.
Moleskin Classic Sketchbook ($17)
I love these sketchbooks, especially without lines. I plan my days, work out memory strategies, and even draw in them whenever I'm on the go.
Sony a7iii ($1998.00) + accessories
I'm always filming or creating memorable content for my YouTube channel and for clients, so I always bring my small (but powerful) Sony mirrorless (along with a few accessories: lenses, microphone, SD cards, drone).
Samsung T5 SSD 1GB portable drive ($185)
This thing is tiny, powerful, and fast. I use it to store my footage on the go and also as a drive to edit from when I don't want to clutter up my desktop or laptop.
About the bag
Incase Camera Pro ($220) is the bag I use for most of my travels and work. It can carry my laptop, all my camera gear, as well as all the little peripherals that I need. I've brought it everywhere: Cuba, Tibet, Nepal, Tanzania, NYC, etc. It's almost 3 years old and no sign of wear. The zippers open up real quick and easy to access everything you need in a quick moment. Love it!
12/18/19