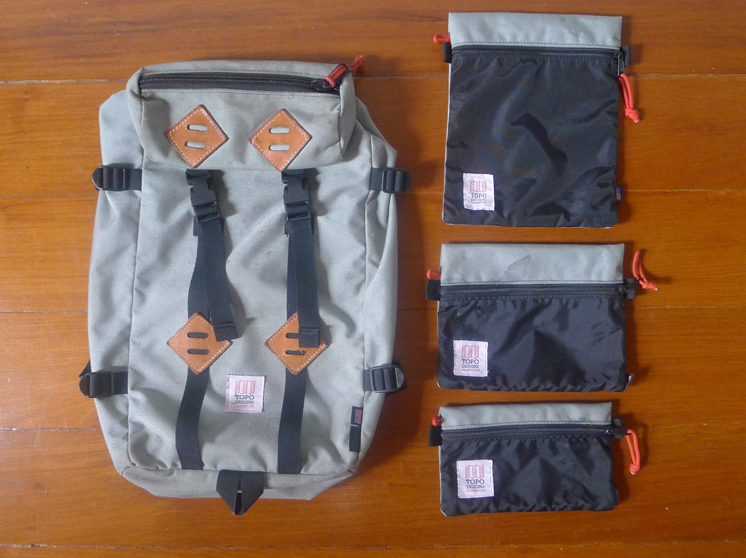 A world-traveling DJ shares his work and travel essentials
When you are constantly on the road, your personal/carry-on bag can be your best friend or your worst nightmare. When I returned from my summer tour of three months of DJ gigs around Europe in 2012, I was in serious need of two things: a chiropractor and a new bag. My classic style DJ bag with a single shoulder strap had begun to do some serious damage on me, pinching nerves in my neck and causing me chronic pain. The search was on for a replacement and, in the Topo Design Klettersack ($169), I can can absolutely say I have found my new best friend.
The shoulder straps, reinforced with the same material seat belts are made from, seem to be able to carry an inordinate amount of weight without the slightest bother. I have hiked miles to gigs with this bag through the mud of Glastonbury, waded out with it into the sea to catch ferry boats to remote islands, set it down on beer-soaked nightclub floors, slept with it as a pillow in countless airports and generally abused the hell out of it. But, like a true best friend, it has never let me down, fiercely protecting my gear and literally having my back.
The bag features a built in padded laptop slot that is essential for any modern nomad and a top pocket with the most heavyweight zipper I have ever encountered that provides quick access to my passport, notebook, pen drives and other essential items. Both the main compartment and top pocket hold far more than you would think on first glance.
I also picked up a set of matching accessory bags ($13) in three different sizes that are brilliant for organizing and keeping separated all of my cables, power plugs, adapters, headphones and other odds and ends.
On top of all of this, the bag is hand made utilizing green manufacturing practices in Colorado by people who spend more time scaling mountains than sitting behind desks. In other words, they know how to make a proper bag and do it in a fashion that is friendly to the planet.
Like any best friend though, nobody is perfect. I wish the laptop pocket included a pull strap to make removing my MacBook a bit easier when the bag is full and I could do with a bit more padding underneath the bag. Having said that though, I have never had a piece of gear get damaged while in this pack.
What I keep in my bag isn't really as noteworthy as the bag itself, but here's the rundown: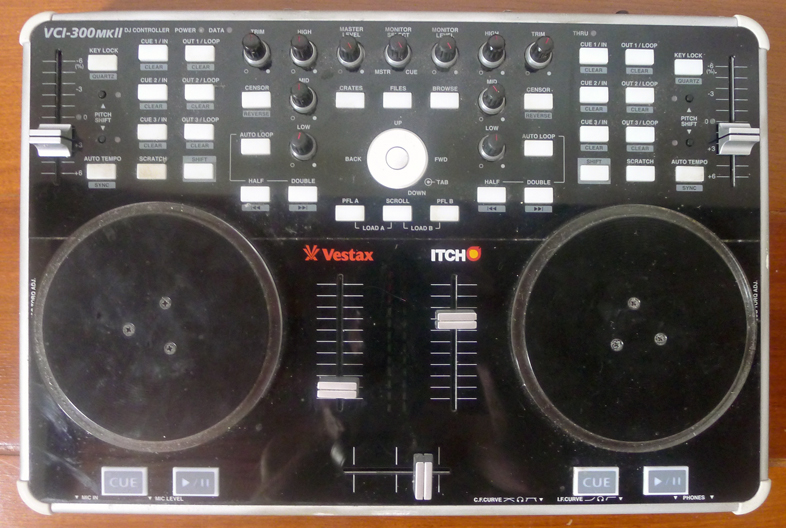 Vestax VCI-300 DJ Controller ($700) — This compact piece of gear has been with me over thousands and thousands of miles and countless gigs and has never let me down. It runs industry standard Serato software, so I don't need to worry about creating separate libraries with separate software just for this controller. You get pro quality with an almost entry level price point with this controller. There are newer versions available but I've had mine for over four years and have not had a reason to replace it. It fits neatly in my backpack and I protect the knobs and faders using a custom fit Decksaver cover.
Korg Volca Beats ($159) and Volca Bass ($158), Akai MPK Mini ($99) and soundcard — A compact analog drum machine, analog mono synth, midi controller and midi/audio interface so compact, I can now work on tracks anywhere, including at 30,000 feet.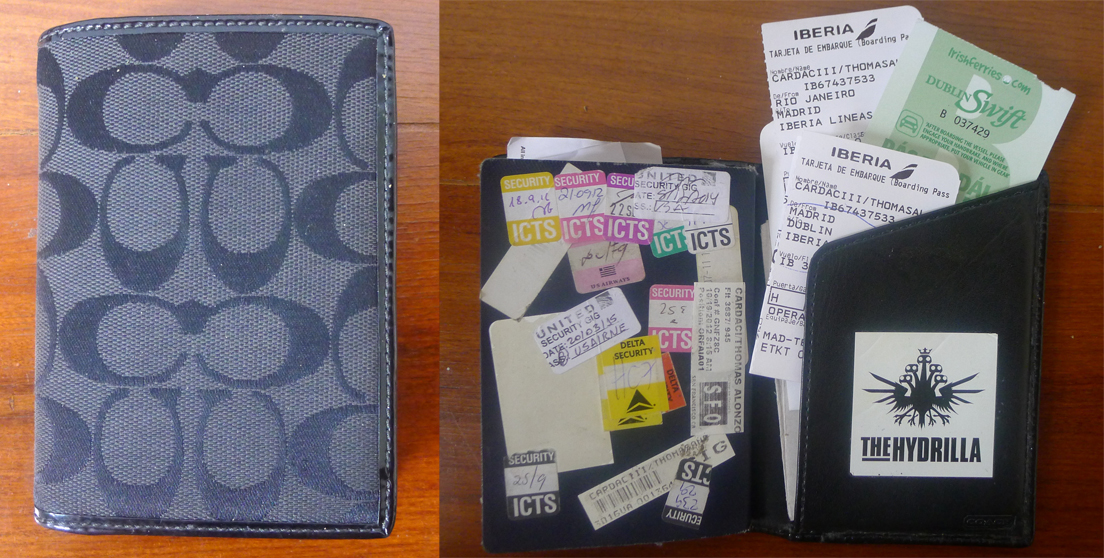 Coach Passport Cover ($125) — My one "luxury" item. I probably would never have bought this for myself but it was a gift and I do love it. It's leather and canvas construction and black-on-black design is elegant without being ostentatious. It does a wonderful job of not just protecting my passport, but organizing frequent flyer cards, tickets and my Brazilian resident card.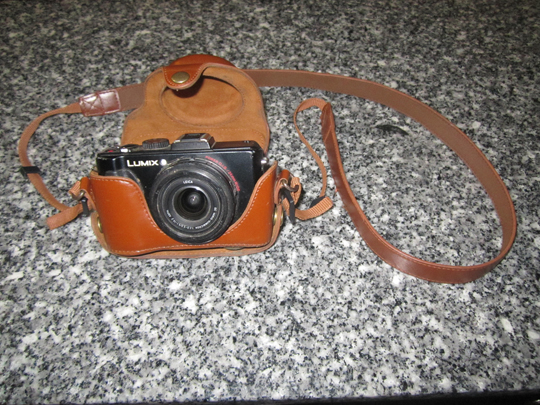 Lumix DMC-LX5 ($289) with MegaGear leather case ($29) — I tend to use my mobile for quick snapshots but, as an amateur photography enthusiast, I love having a quality camera with me when the mood strikes. It was recommended to me by a couple friends that are professional photographers because of it's Leica lens and full-size sensor. It's small enough to travel easily but powerful enough to yield great results that look great when enlarged and printed. The leather case (that I believe I first saw on Cool Tools!) never fails to turn heads and garner compliments for its vintage styling.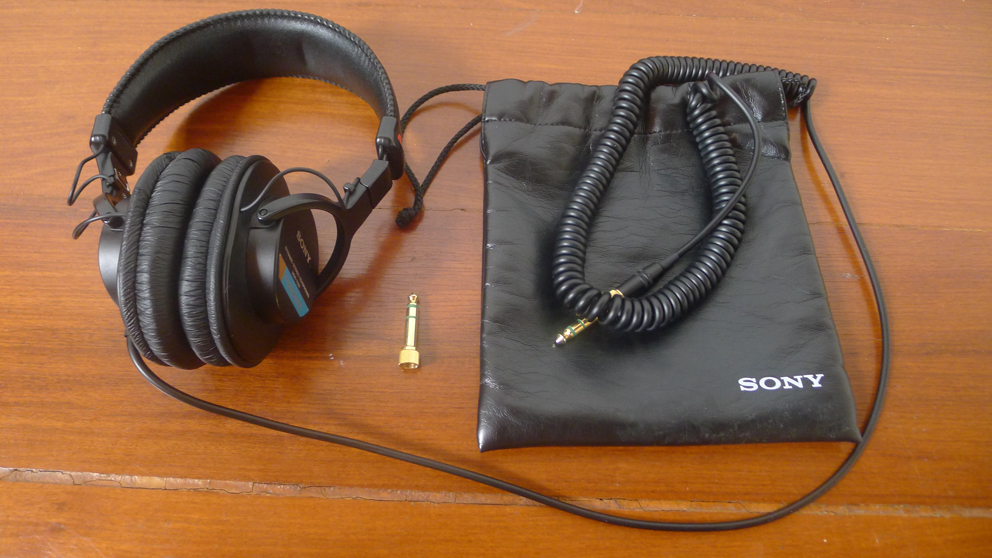 Sony MDR-7506 Studio Monitor Headphones ($79) — Virtually identical to the first professional pair of cans I bought back in the early 90's. I've experimented with others over the years but I always come back to the these for their robust construction, comfort, clean low-end response and fold up design that makes them perfect for travel.

Éccolo World Traveller Notebook — Basically just a cheaper Moleskine knockoff. Having a place to note flight information, contact numbers, schedules and other logistics info in a location that doesn't require a battery or to be power up is invaluable when on the road. I also take full advantage of the little pocket in the back to store business cards and other scraps until I have a chance to file them digitally when I get home. Puffy pterodactyl sticker courtesy of my lovely little niece, Bonita.
Balmain Paris pen — I somehow ended up with this after a gig for Coca Cola during the World Cup. It costs more than I would pay for a pen but I didn't pay for it and it writes like a dream. Thank you, Coke.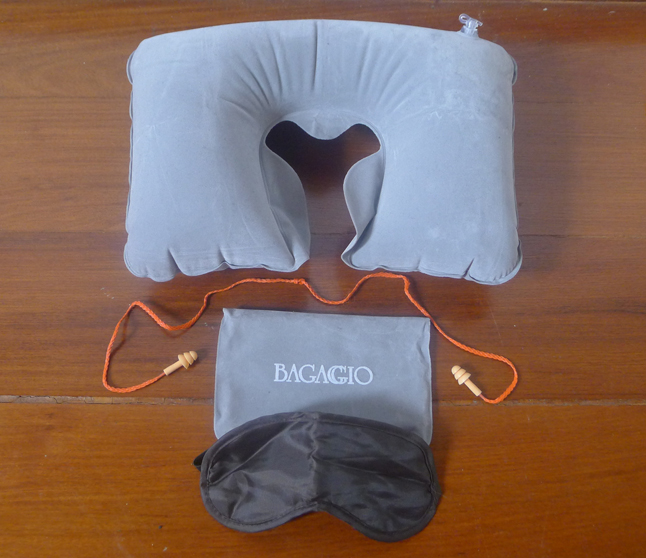 Inflatable Travel Neck Pillow, Earplugs, Eye Sleep Mask ($15) — I refuse to walk through an airport with a stuffed pillow wrapped around my neck but they do come in handy. This little kit gives me all I need to block out the world around me when I just need to knock out in public, without taking up virtually any space in my bag.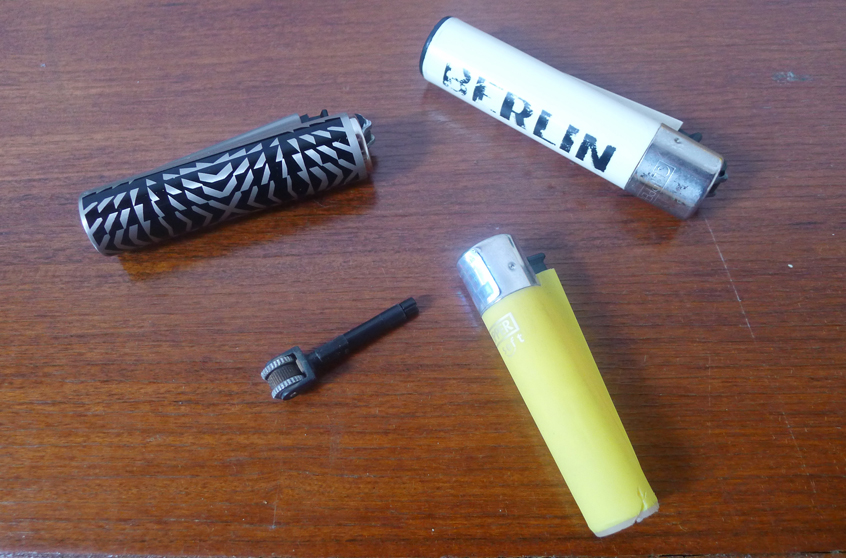 Clipper Lighters ($7) — I'm not really big on souvenirs but I do try to pick up a Clipper wherever I go. They're refillable and that little pokey bit that holds the flint comes in handy when skinning up.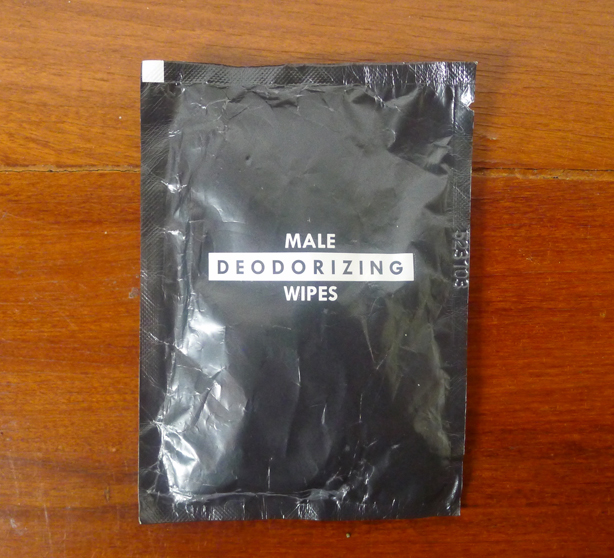 Niche For Men deodorizing wipes ($9,10pc) — I raise a glass to whoever invented these! And when I do, my sweat stained pits are less likely to offend, thanks to the odor neutralizing ingredients contained in the moist towelette in each little pouch. I used to dread making short connections, as I would inevitably arrive at the gate sweaty and gross from hurrying through the airport while lugging heavy gear. Now I just take a moment to pop into the men's room and towel off just before boarding.
Sony Xperia phone – Android based, unlocked for global use and waterproof…. sold!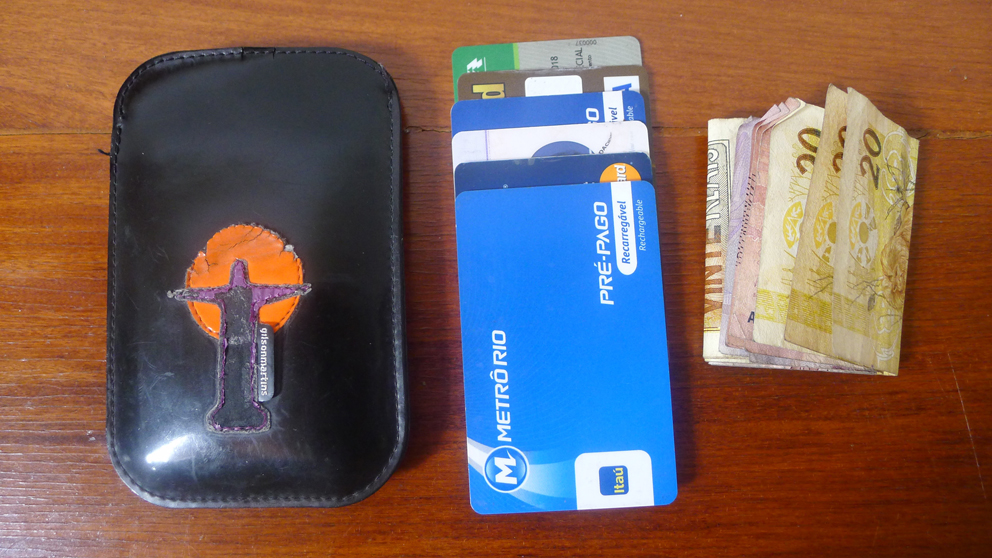 Gilson Martin flat wallet and business card holder — Martin is a Carioca designer whose pieces adorned with iconic imagery from the "cidade maravilhosa" have been featured from Rio and Milan to Paris. Funny thing is though that neither of these items I own are being used for their intended purpose. I believe my flat wallet that I carry in my front pocket was originally designed as an ipod case. It even had a handy thin rope and tiny carabiner I that could clip to my belt loop, until I tore it off accidentally. Great for countries known for their talented pick pockets.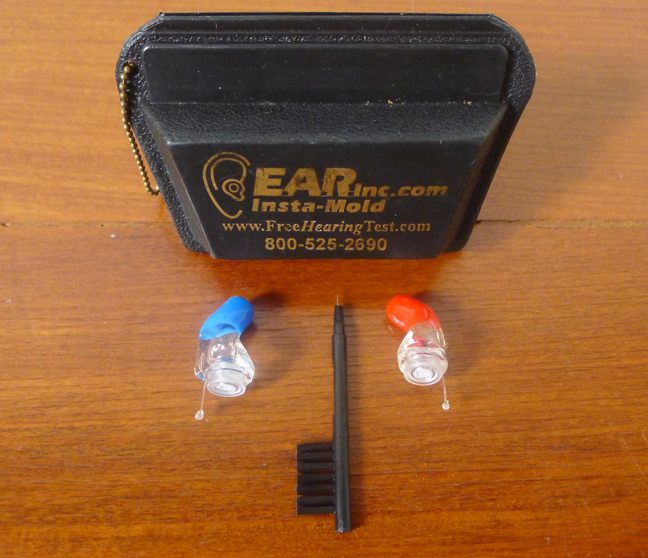 EAR Inc custom fit earplugs for musicians — I don't use these as much as I should, but for some big festival gigs, where the DJ monitors are bigger than the speakers in most clubs I'm used to playing, they are life savers. They were custom made for me by a small company in Colorado from latex impressions of my inner ears. They filter out the damaging high frequencies while still allowing me to hear accurately. They are made with imbedded glow in the dark material, at my request, so they can be easily spotted if I drop them in a dark DJ booth. Result!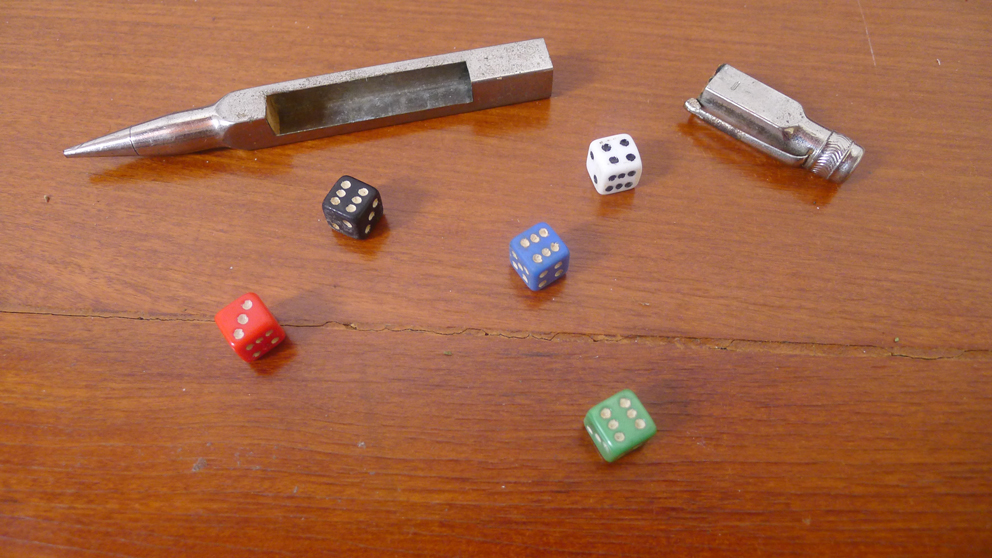 Vintage Pen with Five Colored Dice – I picked up this stylee piece at the antiques fair at Praça XV in Rio for about 5 bucks US. It doesn't function as a pen any more but the dice it contains come in handy for passing time and making new friends over games of Cee-lo in airport bars during long layovers. It's paid for itself several times over in free drinks.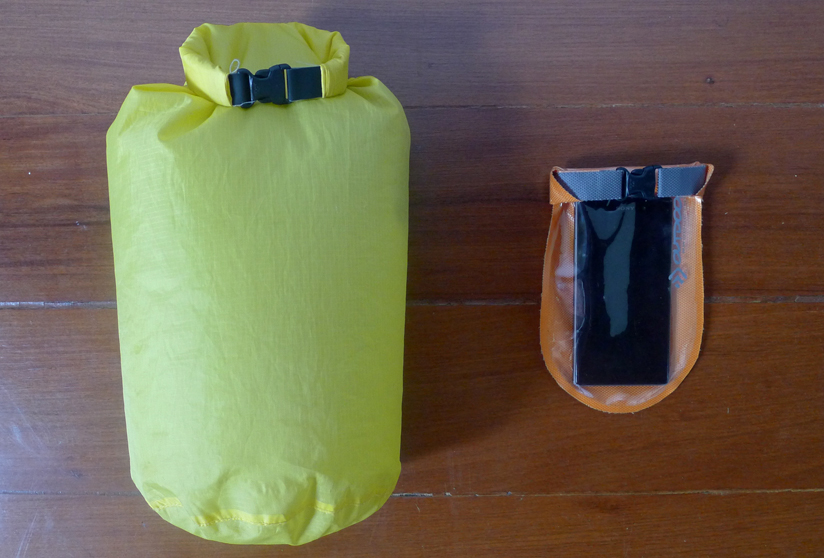 Outdoor Products waterproof bags ($10) — These things are so cheap and so handy. I use them to protect my mobile and camera when it's raining or I'm on the water somewhere. I also use them to store damp and dirty clothes when coming off a festival site until I can get them laundered.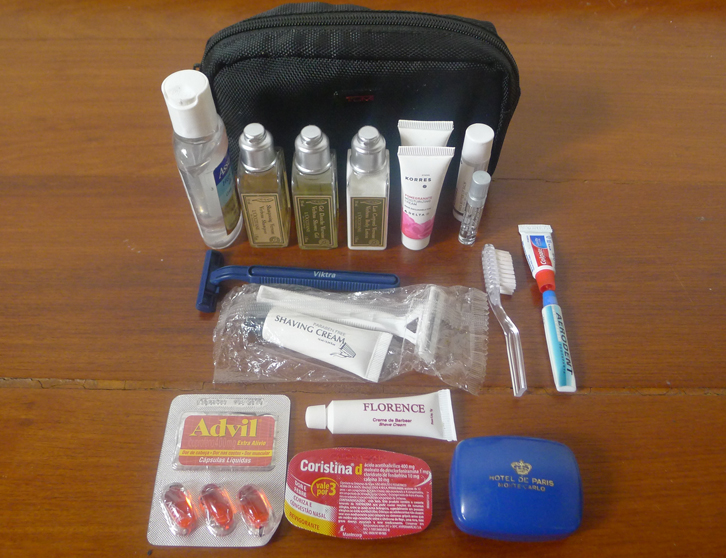 Business Class Dock Kit – It's rare I get the upgrade, but when I do, I always make sure to grab the travel kits they hand out in first class and business. I keep them refilled with hotel soaps, shampoos, toothpaste and other items for a perfectly compact dock kit that doesn't cost me a thing.
LED Mini Torch – This indispensable item is cheap, ubiquitous, and perfect for flipping through records or plugging in cables in the dark.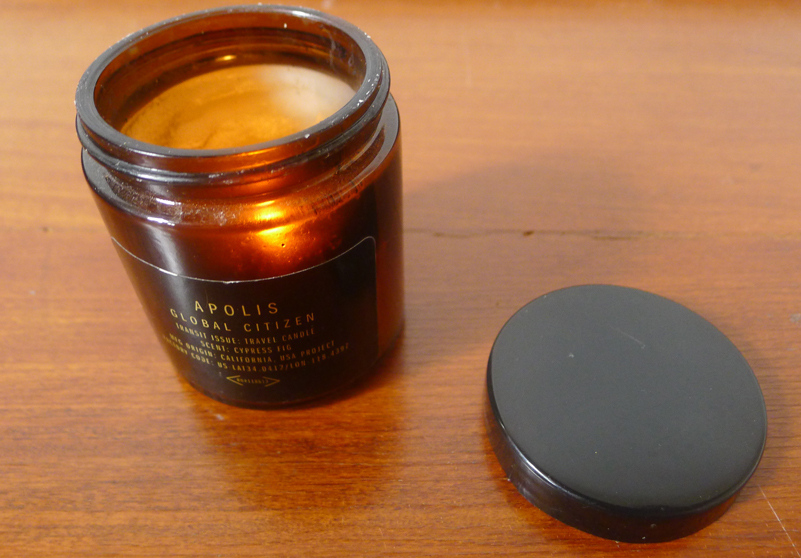 Apolis Global Citizen travel candle ($22) — It may seem a bit much traveling with your own candle but this "cypress fig" scented beauty helps to add a bit of zen to even the most nondescript chain hotel rooms.
07/29/16
(Cool Tools Readers! We will pay you $50 if we run your "What's in My Bag" story. Send photos of the things in your bag (and of the bag itself, if you love it), along with a description of the items and why they are useful. Make sure the photos are large (1200 pixels wide, at least) and clear. Use a free file sharing service to upload the photos, and email the text to editor@cool-tools.org. — editors)