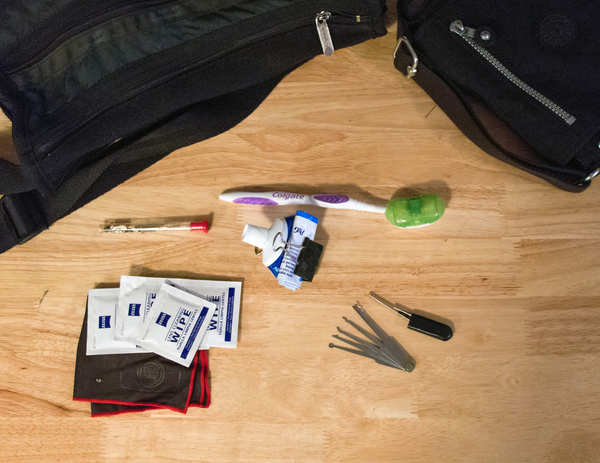 What's in my bag? issue #25
Sign up here to get What's in my bag? a week early in your inbox.
Terrie Schweitzer is the editor of Better Humans for Coach.me, and on the weekend she's a professional bubble entertainer with Big Top Bubbles. She loves unconventional adventures and spent two years working with cashew farmers in Ghana, has been a goat milker, and counts hawks with Golden Gate Raptor Observatory. You can find her on Twitter @terrie and @coachdotme.
Zeiss Lens Cleaning Wipes ($15)
Smudged glasses make me crazy. These are the best cleaning wipes I've found. They're super juicy; I wipe down my phone, my car audio screen, and anything else within reach after I do my glasses. I also carry a good microfiber cloth to dry the lenses after. Two steps—but worth it!
Emergency Eyeglass Repair Kit ($5)
I've had this little kit for over a decade, and keep a couple needles pre-loaded with thread inside, too, to cover all sorts of little repair jobs. I found that a big sewing needle can also work as a pin to eject sim cards.
Toothpaste nearly empty with a binder clip ($8, 50pc)
Instead of paying exorbitant prices for a travel size toothpaste, I just set aside my almost-empty ones to use for purse or travel. The trick is to fold them up and clip them with the binder clip so it's as small as a travel-size tube. (You can use this trick for any similar squeeze-tube packaged products to create a travel size; just adjust the binder clip size accordingly.) Sometimes the binder clip comes in handy for other things, too.
Concealable Lock Pick Set ($20)
I'm really terrible at lock picking, and I don't have much occasion for practicing, so this is mostly just a conversation piece. But it's a nice miniature set of lock picks to have if you are inclined to bring up the subject of locksport. Goes well when paired with a membership to TOOOL!
About the bag
Usually I carry a LeSportsac Classic Deluxe Everyday Bag ($139 new, but I got mine on eBay where they are widely available) or a Kipling Sabian Mini-Bag ($29) — it's great to stow in a carryon or in a larger tote if I'm carrying a laptop.
11/27/19