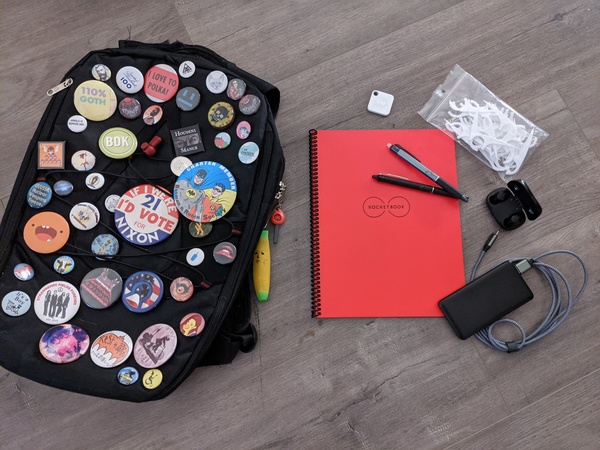 What's in my bag? issue #33
Sign up here to get What's in my bag? a week early in your inbox.
Tommy Honton creates immersive experiences that weave narrative and interactivity/game design, including the escape room Stash House in Los Angeles.
About the bag
Got this bag at E3 a number of years ago as a promotion for the Assassin's Creed game series and it became my home for pins and buttons. I've since had to move on to decorating other bags (I have 2 more that are even more covered), but I like this one for traveling light.
What's inside the bag
Rocketbook Smart Notebook + Pen ($30)
Rocketbook makes an erasable, reusable notebook that allows for easy, quick scanning with an app. Using formulas found at the bottom of each page, the app can send pages in bundles as PDFs, JPGs, etc. to cloud storage or emails. It can even make written text searchable with OCR. I've found the features so useful, it's hard to write with anything else. Plus, I like the reusable factor of the notebooks.
Tile Mate ($50, 4pk)
I lost my key ring a few years ago and it was a nightmare getting replacements for everything on it. After that, I discovered Tile Bluetooth trackers. They're simple, small, and now that newer models of the Tile Mate allow for easy battery replacement, I have one in almost everything I own.
Biodegradable Floss Picks ($16, 200qty)
I eat a lot of leafy vegetables and they have a tendency to wedge themselves where I don't want them. There's nothing worse than the feeling of something stuck in my teeth, so I always carry a small pack of floss picks.
Aukey True Wireless Earbuds ($50)
I listen to an unhealthy number of podcasts and having true wireless earbuds that fit comfortably and are reliable has become a necessity for me. I'm constantly surprised at how well these budget earbuds have performed. I've had them for almost a year and still get hours of use before having to charge them and the audio quality is great. Also, I always travel with a charged portable battery and a rugged, flexible USB-C cable, just in case.
01/22/20