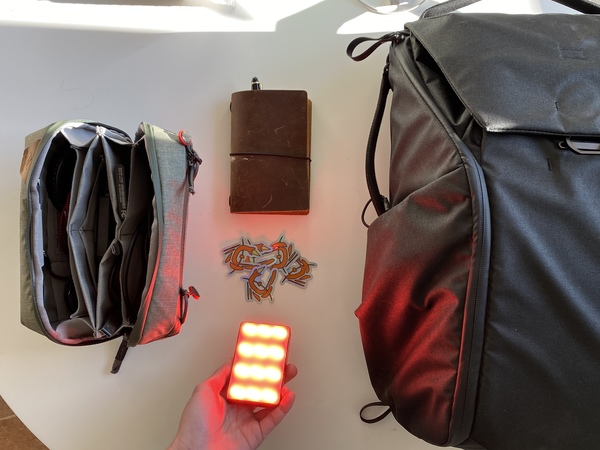 What's in my bag? issue #81
Tywen Kelly is a student of media ecology. He is taking the next year to write essays and make art in pursuit of researching how media and ecology intersect. At the end of the year he will award himself an MFA.
About the bag
The bag I use is the Peak Design Everyday Backpack v2 ($260). It is the 30 liter version. It is the perfect size for personal item when flying, but the smaller version at 20 liters is a better everyday carry.
What's inside the bag
Pocket Travelers Notebook ($12)
For my birthday this year my friend got me this refillable leather notebook cover which uses elastic bands to hold small notebooks inside. It can hold up to three at a time comfortably and still be small enough to stuff into my shirt's breast pocket. The elastic band system means that I just throw my pen inside, whatever page I'm on, and have it clamped in place for easy packability. The leather is good quality and accretes a nice patina over time.
Stickers from Sticker Mule
Stickers are a great mini-gift to hand to friends when you meet up. I used Sticker Mule to print 50 of my small doodles onto a die-cut iridescent 2″ x 2″ sticker. I keep four or five in my wallet at all times to surprise friends with. I also use the stickers to label everything that is mine — camera equipment, notebooks, chargers, etc., such that it is not mixed with others' kits.
Tech Pouch ($60)
The Peak Design Tech Pouch is an origami-inspired organizer that stores every gadget accessory you need to travel. It conveniently stores my many cables, earphones, SD card holder, power brick, USB sticks, pens, and my Kindle. The price is on the hefty side, but the quality material, dense stitching, thoughtful design, and the fact that now I don't travel without it has made it a worthwhile investment.
Aputure AL-MC Video Light ($90)
If you're a photographer or videographer on the go, this is the ideal travel light add-on. It's small, cordless, lightweight, and adjustable from very dim to as bright as a thousand suns. The LEDs are also RGB, so you can paint a subject with any color light you please. It's convenient to charge via USB-C and convenient to hand-hold or stick to a metal surface with it's built-in magnetic back. If you have more than one of these lights you can control them all via a smartphone app. I find myself using this it as a rim or fill light on my photo and video shoots.
12/23/20
(What's in YOUR bag? We want to hear about unusual and unusually useful items that you carry in your bag. We are especially interested in the specialized bags of doctors, athletes, repair techs, artists, gardeners, hikers, etc. Start by sending an email to claudia@cool-tools.org with a photo of the things in your bag (you can use your phone). If you get a reply from us, fill out the form. We'll pay you $50 if we run your submission in our What's in my bag? newsletter and blog. — editors)