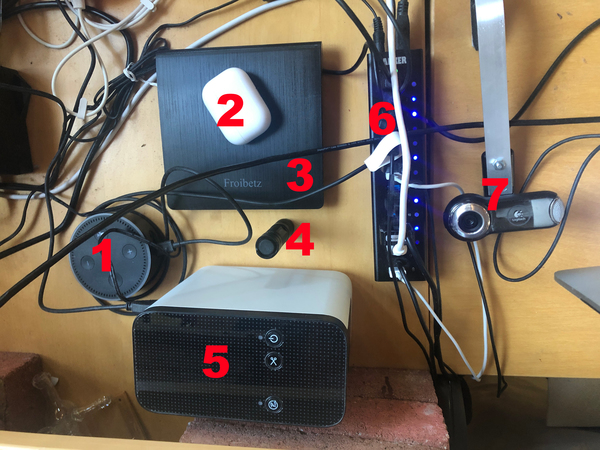 What's in my … ? issue #120
Sign up here to get What's in my bag? a week early in your inbox.
What's on my desk? A lot of gear is piled off to the side of my desktop iMac.
1. Alexa, inside an Echo Dot. I ask Alexa all kinds of questions all day long and also have her schedule my day by setting alarms at the beginning of each appointment
2. AirPods. I use AirPods for zoom calls and for walking meetings. I can walk while talking.
3. CD and DVD player for my PC.  Since they no longer build them inside I needed to get an auxiliary one.
4. Small flashlight. One AA rechargeable battery flashlight, which I use to find things in the office, in corners, at the back of drawers, etc.
5. Brother P-Touch PC Connectable Label Maker.  This Brother label maker is hooked up to my iMac. I can type the text of the labels I want and they print out fast and quick. I can choose different color background and text.
6. Long Anker USB hub. I discovered you cannot have too many usb plugs. This one has 14 and I have already used them all up.
7. Logitech HD Webcam. I took this Logitech camera and made a metal bracket for it so it can hang from my desktop monitor right in the middle of the screen. I hang it there during zoom calls. Since the camera is in the center of my screen it looks like I am looking right at the person rather than off camera.
09/22/21