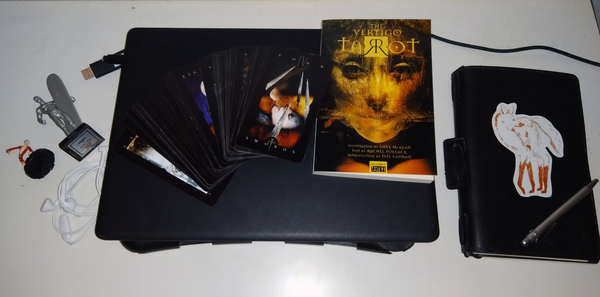 What's in my desk? issue #93
I write, design games, draw and help people manage their knowledge and learn collaboratively. — Lisandro
This is a floating desk. I set it up in the morning to work, and fold it when I am done to prevent me from overworking. Since the beginning of the lockdown I set the goals for the day and when I am done I know I had an honest day of work and I am free to do other things. Workaholism is about guilt not about being engaged.
What's in my desk:
Heroclix figures
Some people have their patron saints at their desks, I have mine. But they are from the atomic age era of comics. As patron saints do, they remind me to be a better version of myself. To be more stoic and wise, like the Silver Surfer, or to be more flexible and carefree, like Plastic Man.
The Vertigo Tarot Deck
One of the greatest problems of the pandemic lockdown is to have fewer opportunities to talk to people. Especially about the small and more vulnerable stuff. I use this Tarot Deck for the moments when I need a random opinion to establish a better dialogue with myself and rethink what I need or want to do. It is not divination, it is a conversation.
Midori
I write a lot by hand even though I can't read most of it afterward. But writing by hand and doodling help me focus and activate my imagination. This Midori with 3 notebooks is a lifesaver for a compulsive writer and doodler like myself. I never run out of pages.
AG Spalding & Bros Pen
It was the first gift I bought for myself after and long and difficult period. It gave me the confidence to write again and reminds me how I can go through a lot of hardship without breaking down. It is a beautiful and sturdy pen but runs dry too fast. Or maybe is it me that writes a little too much?
03/17/21