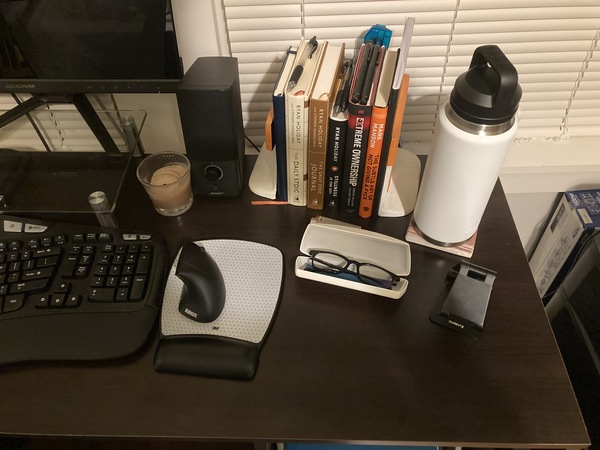 What's in my desk? issue #97
Sign up here to get What's in my bag? a week early in your inbox.
I live in Knoxville, Tennessee, and I am a University of Tennessee graduate. I grew up in Atlanta, and I go back frequently to visit family and friends. I graduated from the University of Tennessee in 2013, where I majored in sports journalism. I currently am an Assistant Property Manager at a student housing property right outside of campus. In my free time, I enjoy hiking (especially at the Great Smoky Mountain National Park), reading (currently reading The Expanse series), and watching movies (my favorites include Goodfellas, The End of the Tour, and Inherent Vice). — Ryan Howard
About the desk

I enjoy spending a lot of time working at my desk. My favorite productivity app is Todoist as it helps me keep track of all my personal projects, but I also use a customized combination of Evernote (for notes and things I want to remember), Google Drive (for files stored on the cloud), Gmail (for emails) and Google Calendar (for tracking time). The desk itself is nothing special, as I believe it's a $100 desk I bought from Target, but it gets the job done. I'm a sucker for a comfy office chair and have a Humano 9to5 Executive Ergonomic Office Chair. I also use a ComfiLife Gel Enhanced Seat Cushion to sit a little higher up and a little more comfortably.
What's in my desk

Anker Vertical Mouse – This mouse is much more ergonomic than a traditional one and much easier on my hand/wrist/arms. It takes a bit of getting used to, but once you do, you won't want to switch back. I use one at my work office and home desk, and my friends refer to it as the "alien mouse."
Nulaxy Phone Stand – This phone stand is great for resting my phone while I'm working, and it is especially helpful when listening to music, podcasts, or audiobooks. It's adjustable at two different points and is definitely my favorite phone stand that I've purchased.
Journals/Books – These are convenient to have in front of me. I use a couple of different journals. I use a moleskine notebook for recording specific daily goals and one line about that day. I also have Ryan Holiday's The Daily Stoic and The Daily Stoic Journal, as I thoroughly enjoy the daily quote and piece of stoic advice. I also use a composition notebook for any long-form journaling I do.
Felix Gray Glasses – These blue-light filtering glasses are great, and they significantly reduce eye strain when working at my computer all day. I asked my optometrist if they worked, and he said he highly recommended them. I have a non-prescription pair for when I have my contacts in, and I have a prescription pair for when I want to wear glasses all day long.
04/14/21