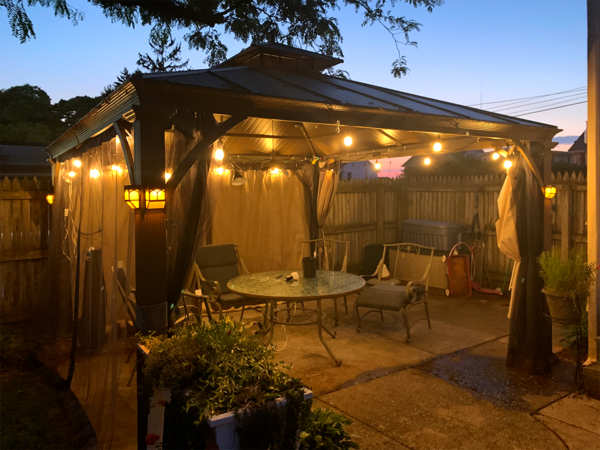 What's in my ... ? issue #109
Sign up here to get What's in my bag? a week early in your inbox.
I'm a retired band/music teacher (32 years) now pretending to be a visual artist and also wrapping up a term as the president of our local arts guild — which is both a business and a nonprofit. No office space there; the gazebo is the office! (At least in spring through autumn.) My personal art related website is here: https://www.visualrealia.com. For Facebook folks, you can find me at www.facebook.com/VisualRealiaStudio. — Andrew Smith
When the pandemic hit, we knew we'd be spending a lot of time at home, so the installation of a nice 12'x12' gazebo with power, strong wifi, and good lighting put our intended vacation budget to good use—one of the best decisions we've made for the house. We even have an Amazon Echo on the underside of the roof for news, music, reminders, etc.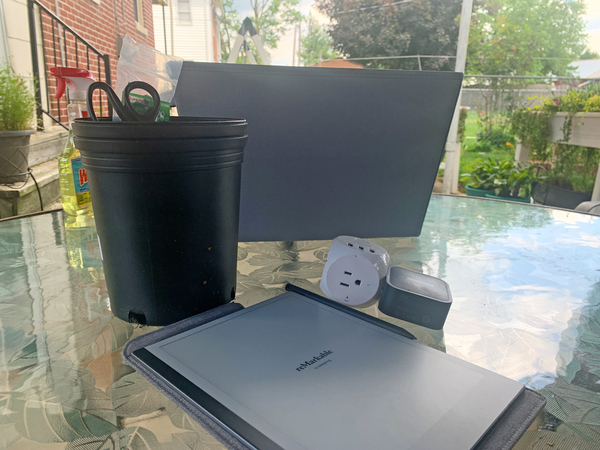 reMarkable 2 ($399)
The reMarkable 2 is a very specific gadget that some will scratch their heads and wonder why someone would pay for an electronic legal pad, and others will love and not leave home without.
When I'm outside working, the wind is an enemy to loose papers. Having all of one's notes on the tablet is quite handy. Editing and rearranging notes and scribbles later is handier than many would suspect.
The pad also allows you to write over the top of pdfs and documents, giving you access to both your work and the untouched original. Pages can be emailed to yourself or others.
Anker PowerPort Cube ($19)
I need power for my computer and phone, but I don't want a clunky extension cord and power strip on top of the table. The Anker PowerPort Cube provides 3 traditional AC outlets and 3 USB ports. (And a RAVPower charger lets me hook up my laptop, as well as my spouse's.)
The great thing about the Anker Cube is I can drop the cord through my table's center umbrella hole. The cube is large enough not to go through, so I have the outlets on the table, but the cord goes under the table. (Anker's warranty and customer service have always been excellent for me, as well.)
Planet E Reusable Grocery Shopping Bag ($25)
I need to store my small office stuff in something that will keep them from blowing away, and also convenient enough to grab and move when the gazebo goes into supper or entertainment mode! I use a Planet E Reusable Grocery Shopping Bag. These are both sturdy and light, and have held up well over time. These foldable baskets are the substitute for desk drawers.
Plastic plant pot
I'm also right near our plants and gardens, so I have scissors for work and shears and ties for the plants. That stuff is all sharp, but I need them handy. A wide plastic pot from a plant purchase has proven to be perfect for keeping things close but safe.
07/7/21