What's in my … ? issue #123
Sign up here to get What's in my bag? a week early in your inbox.
I'm a professor, a media maker and journalist. I spend my days as Director of the Creative School Innovation Studio at Ryerson University* which is an amazing (now very much hybrid) hub devoted to innovation and entrepreneurship within the creative industries. I am also a mom to a toddler, which I mention because it has a direct correlation to what is usually in my bag .
Some backstory: In the time BC (before Covid, before child) I carried around a huge bag. My bag was big enough to comfortably hold a laptop, laptop charger, some food, water, a notepad, keys, pens (probably a few), a small bag with lipstick and powder (2-3 days I'd do a news hit so these were the basics to have on hand to go from in-the-trenches self to tv self).
When I had a baby everything changed. All of a sudden I had a diaper bag. (Because it feels relevant, here is a link to my pick At first I got another model that was stylish in black with gold hardware, but it never closed properly. This one looks like a backpack and holds an amazing amount of stuff comfortably and even has insulated sections.)
But I digress — once I had a diaper bag to carry around, my relationship to a (giant) purse changed dramatically. My purse at this point became something tiny with just the basics for me: phone, keys, cards, and a lipstick.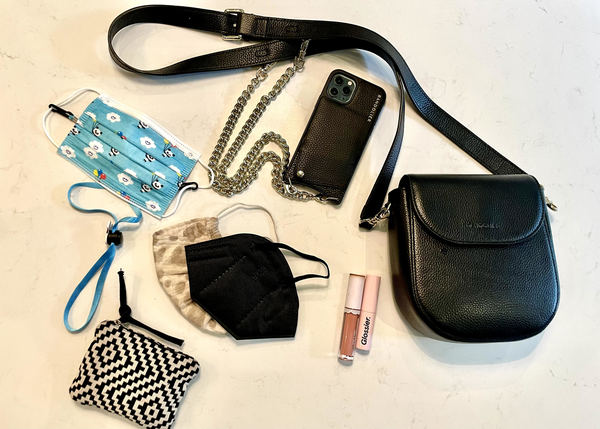 Then I discovered something magical: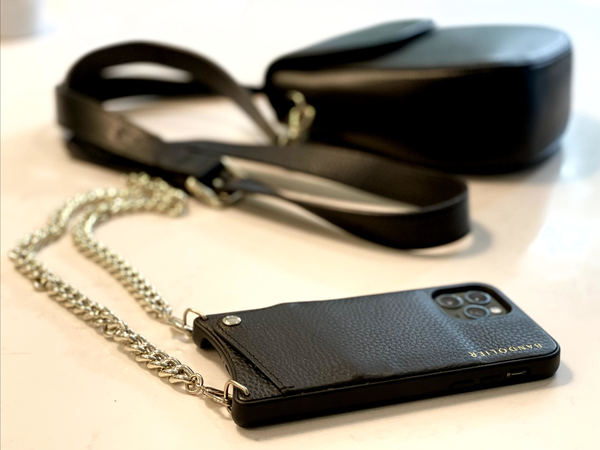 Item #1 phone cases with carrying chains and card slots. This was a life changing discovery. I got my first one off Amazon, but then discovered a female-founded brand called Bandolier that specializes in this and just this. I really do feel this is revolutionary design; it's so simple, but so much of our lives are contained within our phones, I think the whole concept of a purse needs an overhaul. I'm on my third product from Bandolier now. Originally, the case I bought only contained my phone and a few cards, and while I always wished it could carry just a tiny bit more, it started me on a journey of less that I've never turned back from. I now have a new model, which is a phone case that clips by chains to a small purse, which is pictured.
So that's item number one, and as I said, it really is life changing.
For the next few items, instead of focusing on what's in my bag, let me focus on what's no longer there: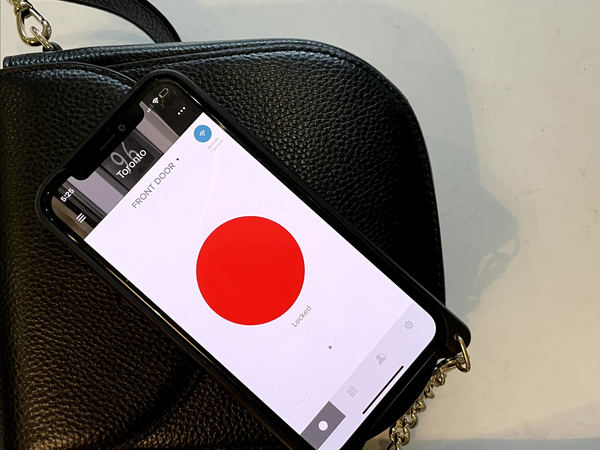 Item #2 August Keyless home entry. Just like I was previously prone to filling my purse no matter how extra large it may be (seriously, I think I verged on overnight bag at one point), my key ring also tended to just amass key-clutter. Once we switched to a digital home entry system, I found that I didn't really need to be carrying around most of those other keys. There are other brands out there, but the basics with August is that you can use an app on your phone to lock/unlock the door, or a keypad. So, see ya' clunky keys.
Item #3 digital wallet. I'm far from the only one who uses a digital wallet so it feels a bit silly to include it, but it is worth noting, I no longer use a wallet. Thanks in part to the pandemic, I rarely carry cash, and now, all of my credit cards are stored on my phone. I carry my drivers license, my health card, and my daughter's health card (Canadian over here, hi). I'm waiting for the rollout that makes all of those essentials digital, too. I anticipate Covid will expedite that process, especially with the roll out of digital vaccine passports.
Speaking of Covid, since the start of the pandemic, I rarely take my laptop anywhere and have just learned new ways to use my phone and cloud solutions when I do need to leave the house for anything work related. So what is still in my bag?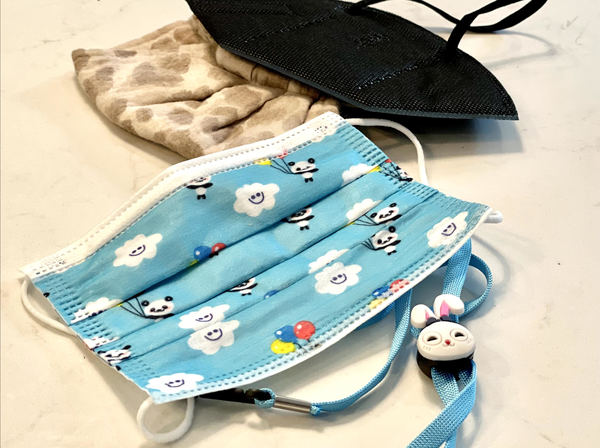 Item #4 a mask for me, and a mask for my daughter. I started off with reusable fabric options (my faves are these from Kitsch, another woman-led brand, very soft and breathable), but since the rise if Delta I now often opt for a KN95. My daughter had cloth masks as well, but now that she has started kindergarten I've gotten disposable ones because she's more comfortable in them and they seem to stay dryer on her face all day. I also recommend a lanyard for kids who are wearing masks all day. Here's the pack I got.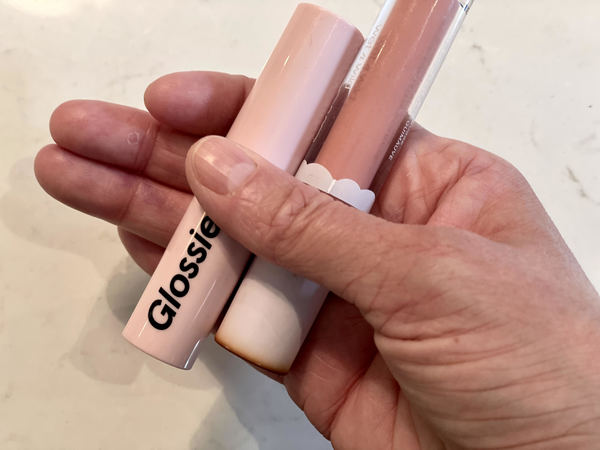 Item #5 lipstick. Is it vain? I don't know. I like the feel of lipstick on my lips and like fun bright colours. But masks and lipstick are not mutually conducive, because anything that's on your lips rubs off onto the inside of the mask. I guess this is a cry for help. I find all day, smudge-free lipsticks to be uncomfortable and drying. So instead of a link, consider this an open solicitation: has anyone found the solution to this? Something that won't feel dry but that also won't rub off on my mask? Thanks in advance 😉
10/13/21