Tools for Possibilities: issue no. 23
Once a week we'll send out a page from Cool Tools: A Catalog of Possibilities. The tools might be outdated or obsolete, but the possibilities they inspire are new. Sign up here to get Tools for Possibilities a week early in your inbox.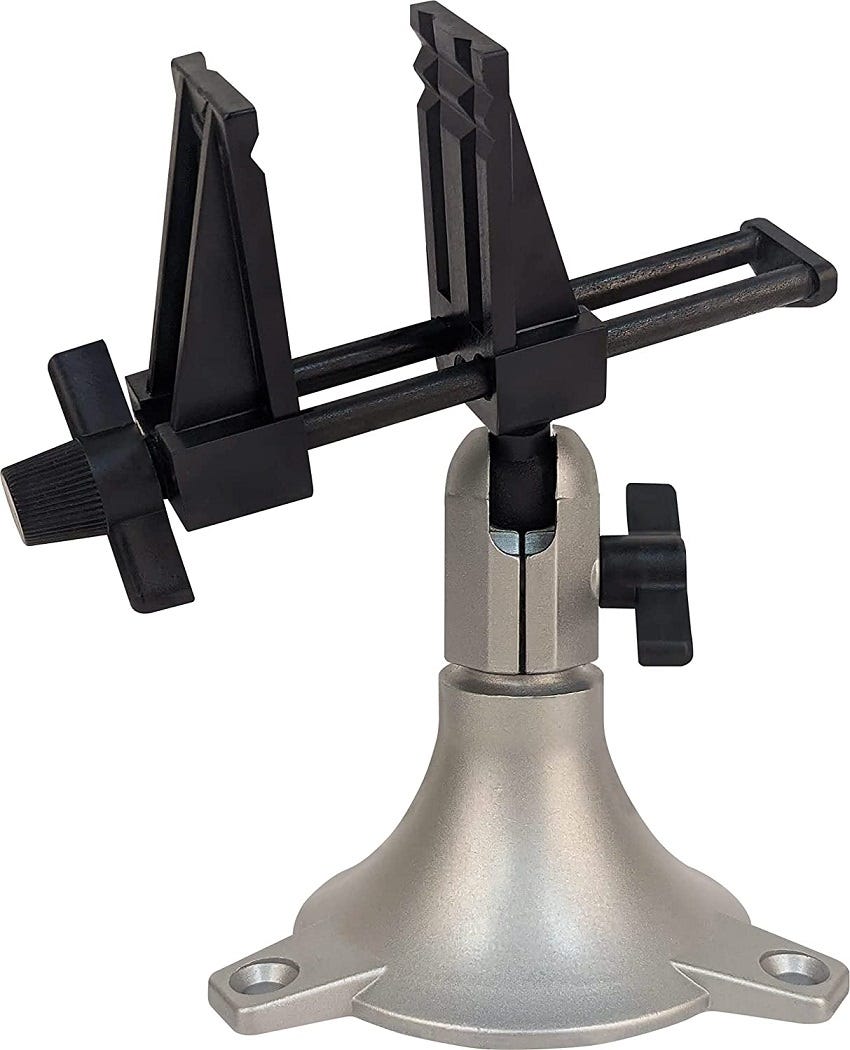 Hold anything mount
I have been using this little vise since my interest in electronics was sparked by Make and Hackaday.com. Before I was just using the standard two-arm alligator-clip and magnifying glass holder from Xacto.
The Panavise is much more stable, adjustable and appropriate for breadboard soldering. It has the little grooves on the arms that your board can slip right into and a nice heavy base which means it doesn't need to be attached to a table if you like to move where you work around a bit. I've built several kits and designs of my own using this little vise. I am comfortable knowing *before* I start any project that this is one problem I am not going to have to solve. — David Van der Voort
---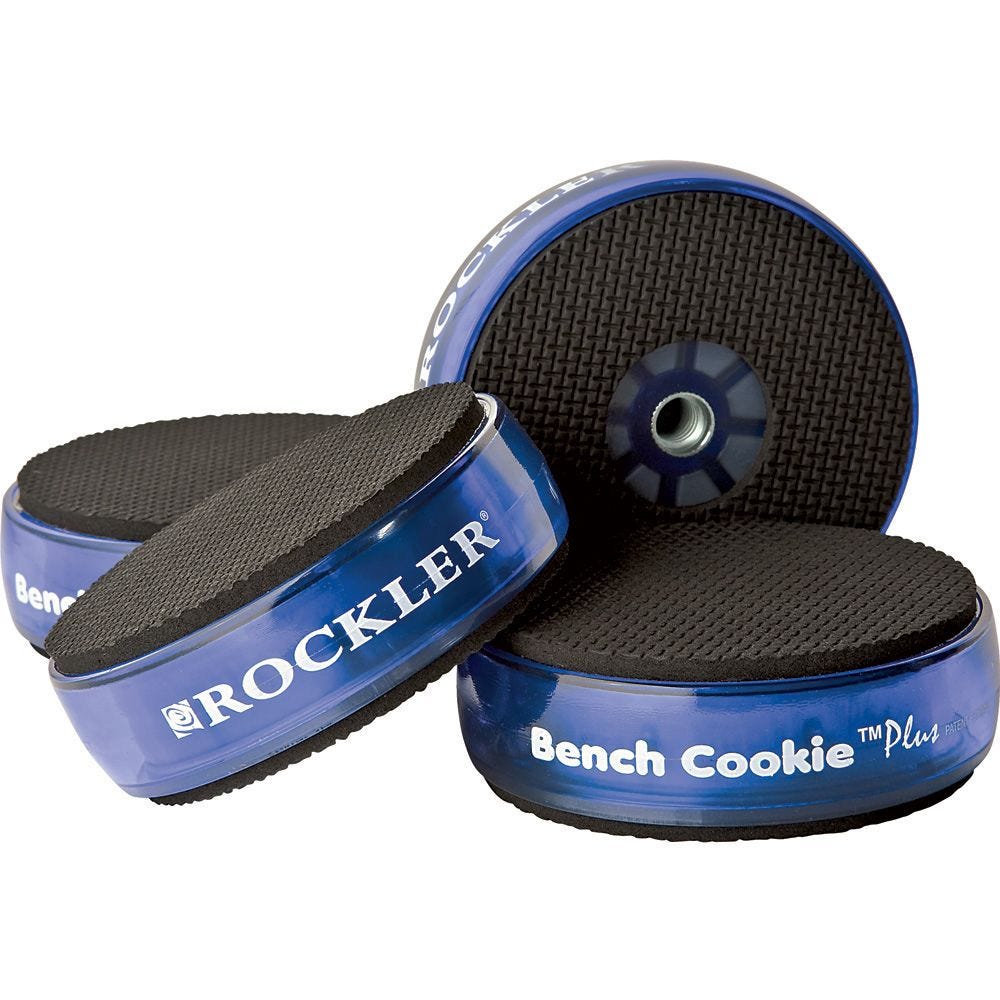 Little lifters
I discovered Bench Cookies at the Rockler woodworking store more than a year ago. Billed as "work grippers," they have smooth plastic sides and textured rubber surfaces on top and bottom. You just place them under objects you're sanding, sawing or painting to hold the object in place. There's no clamping or screwing involved. They're amazing. Wood chips and dust have no effect – they do exactly what they're supposed to. So instead of rummaging for scraps of wood or an old book or two to prop up a project, I reach for bench cookies.
I took them to the print shop where I do intaglio printing. Inking and wiping a large copper or zinc plate on a glass table used to be a nightmare – bench cookies make it a breeze. They hold the plate in place and I can pick it up and turn it as I work, and since it's off the table I can wipe the edges, too. I don't think Rockler had any idea how useful they'd be in an art studio. Their great function and inexpensive price make them a perfect present for anyone that does any kind of project. Turns out Rockler's even made some nice black ones now for uses outside the workshop, like holding up your turntable, keeping it stable and providing vibration reduction. — Jeff Woodbury
---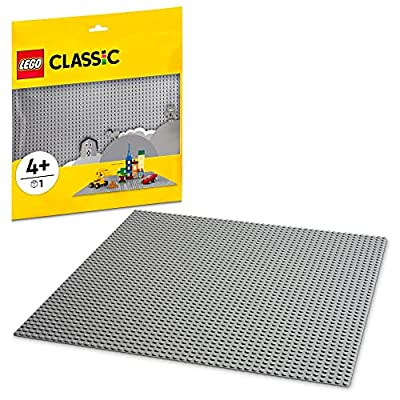 Quick jigs
Because Lego blocks are machined to extremely high tolerances, you can use them for quick, cheap but very accurate jigs, perfect for gluing, squaring, molding, etc. Here is an example of how Jef Raskin, who taught me the trick, used them. He built up the exact jig positions by stacking bricks of various thicknesses. In the case shown below he built up a jig to square up wings on his radio control model airplanes. All you need is the large Lego baseplate glued to a heavy duty flat foundation. — KK
---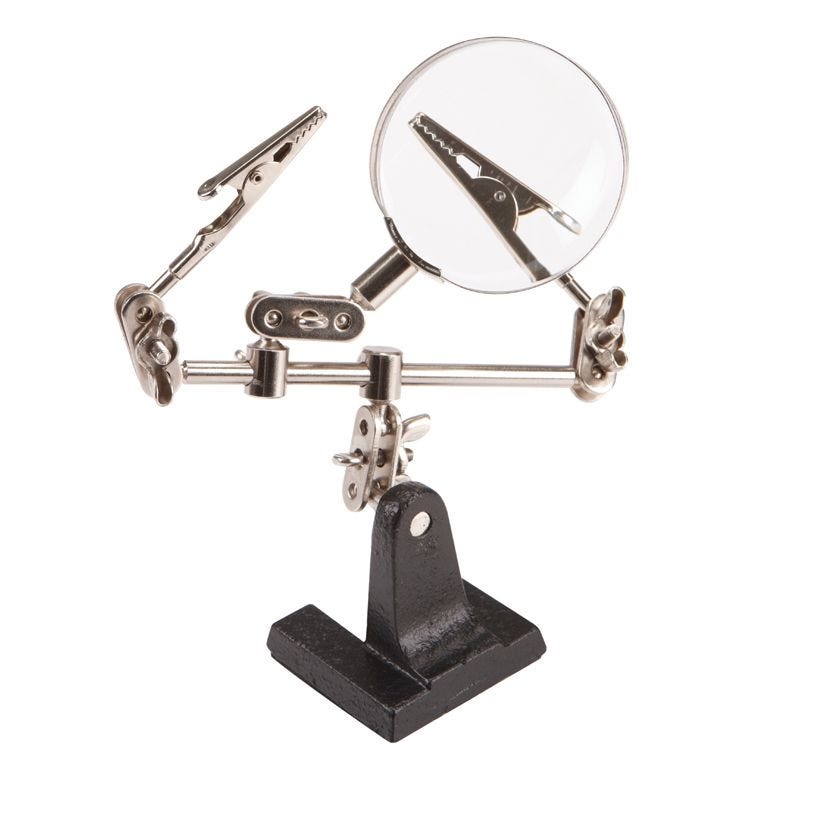 Crafting assistant
The "Third Hand" is a low cost helper that has been an indispensable assistant for many of my projects in electronics. It holds circuit boards in place as you put in components, or if you need to solder delicate parts which require a steady hand (sometimes, more than two) it gives you a few more. It's also pretty tough to find someone to help you at 3am when most of the important work seems to happen. Two adjustable metal clips hold in your circuit boards (or whatever else) and a magnifying glass gives you a little zoom in action for the really tricky constructions. Perhaps I anthropomorphize useful things, but on an otherwise cold work bench, the Third Hand looks like a little robot pal with claws raised, always eager to help. — Phillip Torrone
---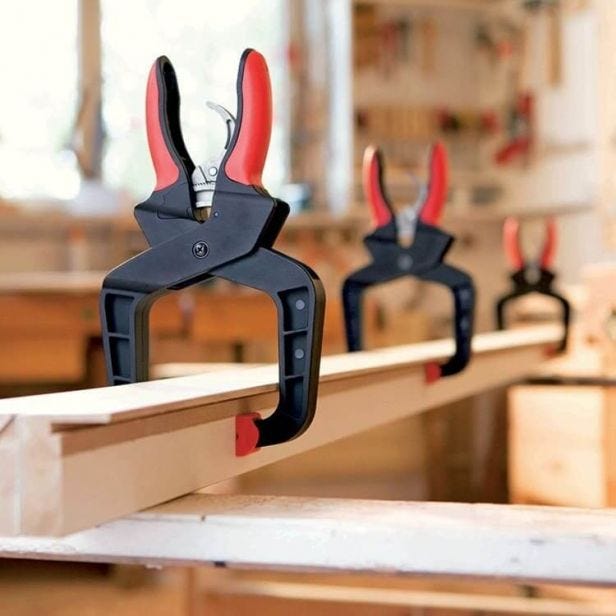 Quick-release clamping
Bessey Ratcheting Spring Clamps
A significant improvement to the original screw clamp, these ratcheting spring clamps feature quick releases similar to a vice grip. You can hold your project in place with one hand and attach the clamp with the other — all with one squeeze of a trigger. Allows you to spend more time on your project and less time screwing around (…and around, and around).
We purchased two of the four-inch clamps at Lowe's about a year ago and use them a lot in our boat repairs. In the last month, they've come in handy on two projects: to hold an awkward-shaped piece of fiberglass in place while we trimmed it; and to clamp some teak to the workbench so that it could be sanded. We have also used them to attach a straightedge to 4×8 pieces of plywood to provide a cutting guide.
We don't normally take the clamps with us out to sea (or let any of our tools get wet for that matter) so they should hold up fine. The clamps are made out of heavy duty resin, so they should never rust; this also explains why they're so lightweight, especially compared to old-fashioned metal clamps. — Nancy Roth
---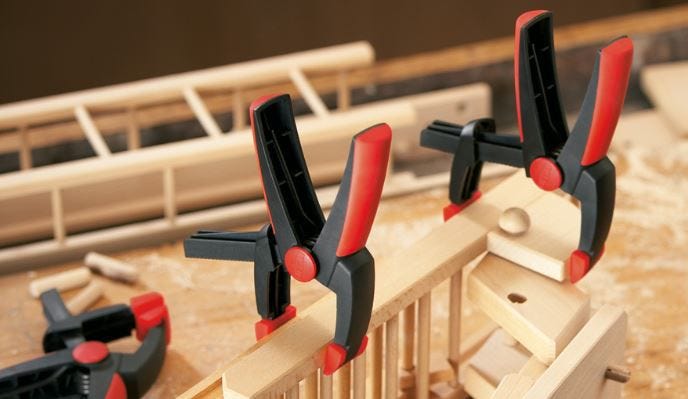 Adjustable woodworker's clamp
Bessey VarioClippix Spring Clamp
While I have a wide variety of woodworking clamps in my workshop, over the past year, this adjustable plastic clamp is the one I've found myself reaching for first. It has an adjustable arm that slides easily on a notched shaft and locks into position when pressure is applied, allowing me to quickly resize a 4″ clamp for 1″, 2″, and 3″ jobs. It is feather light with comfortable handles and a decent throat depth. The spring pressure is just right and the pivoting faces provide a firm but soft grip (other spring clamps have narrow pads that contact the surface, causing possible indents on softer wood, for instance). If you're a woodworker you already have plenty of clamps. I've been doing woodworking for almost 50 years and currently have four pipe clamps and about ten old traditional all-steel medium to large screw-type C-clamps. Most have either deep throats or an extra-wide opening. I also have a number of simple metal spring clamps in a variety of sizes. I seldom use them anymore. Since the VarioClippix clamps are adjustable, a single clamp replaces all the various-sized ones, which also reduces the clutter in my workspace. Ever since I spotted them in the Lee Valley catalog, these clamps have singlehandedly handled about 70 percent of my clamping requirements. — David King
---
02/27/23