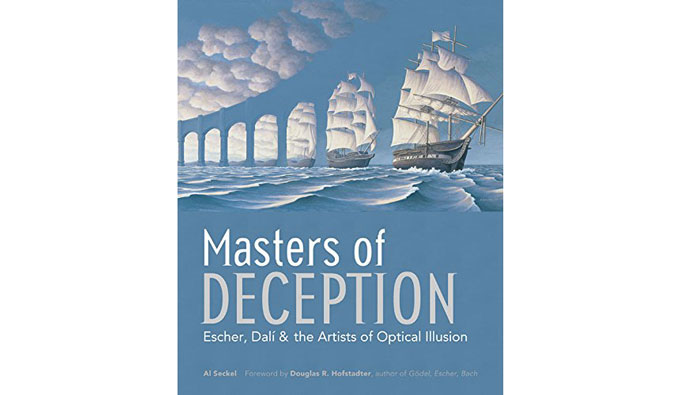 Showcase of nerd art
In one tome, a glorious collection of visual trickery, the best I've seen. Optical illusions of the most ingenious types — using mirrors, type fonts, murals, globes, junk, and of course paint. It is a grand demonstration of nerd art.
01/6/21
Excerpt
"Lunch with a Helmut On," welded forks, spoons, 1987, 73 x 31 x 42 inches
This shadow sculpture of a motorcycle is built entirely out of 848 welded forks, knives, and spoons. It is based on an earlier concept that Fukada exhibited in his 1965 show, "Toys and Things Japanese." Fukuda wanted to create a three-dimensional object in which the shadow, as opposed to the actual form, represented the object. Fukuda was to remark that it is extremely difficult to create a three-dimensional object in this fashion that allows light to penetrate evenly. A movie of this sculpture is on Seckel's website.
*
Hamaekers holds an impossible cube, which is based on the figure in M.C. Escher's print "Belvedere," in 1985. A movie of this sculpture rotating is on Seckel's website .
*
"Spools of Thread, " Colored spools of thread, 2001, 32 X 26 inches
This is Ken Knowlton's portrait of, tribute to, and gift to Aaron Feuerstein, the president and owner of Malden (fabric) Mills in Lawrence, Massachusetts. In 1995 a devastating fire destroyed three main buildings of the mill complex. However, instead of collecting the insurance money and closing up shop, Feuerstein kept workers on salary during the recovery. His response to the situation has been widely acclaimed as a stellar example of decency in business.
Knowlton's portrait consists of 945 inch-long multicolored spools of thread alternately oriented vertically and horizontally. They give the impression, from intermediate distances, of woven fabric. This artwork, therefore, has three levels of interpretation: a portrait, a woven fabric, and spools of thread.
Masters of Deception Escher, Dali & the Artists of Optical Illusion Al Seckel 2004, 320 pages