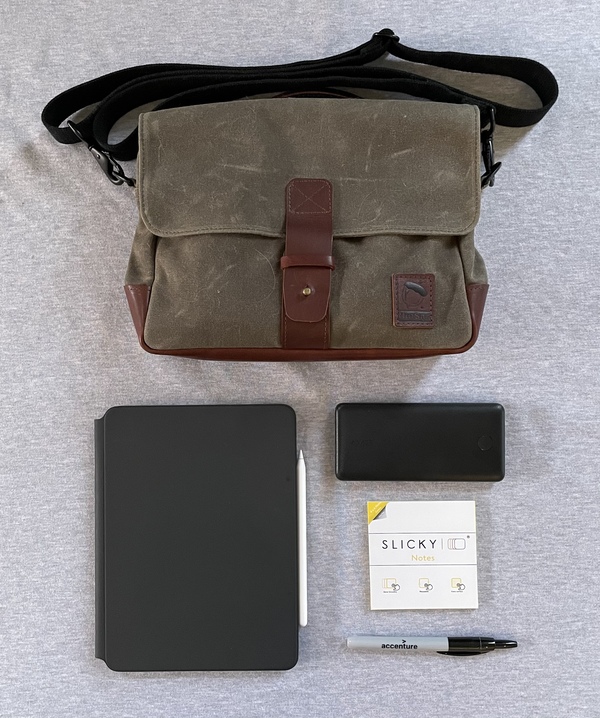 What's in my bag? issue #83
Sign up here to get What's in my bag? a week early in your inbox.
Jeff Heinen is a consultant and agile coach who focuses on helping companies improve their ability to deliver value as effectively as possible by creating a more humane workplace. You can find Jeff on Twitter @geekxx.
About the bag
Pre-COVID I was on the road almost constantly and have tried to minimize the amount of stuff I carry at every turn. The NutSac Satchel 11 ($139) is small but perfectly sized to carry my iPad and all of my essentials.
What's inside the bag
I've mostly abandoned my laptop and use an iPad ($799) almost exclusively for my day-to-day work. With the Magic Keyboard and Apple Pencil it is a laptop, tablet, and notebook all in one. Shortcuts enable me to automate many routine activities and streamline my workflow.
When not near an outlet and running low on juice, the Anker USB C 20,000 mAh power bank ($50) keeps me going all day and then some. It will charge my iPhone five times, or my iPad twice. It's exceptionally fast and can get my phone to 50% in just a few minutes.
As an agile coach I am constantly using Post-It notes to make notes, teach classes, conduct retrospectives, and give impromptu presentations. Slicky Notes ($16, 6pk) are an amazing alternative that use static electricity to stick to nearly anything, even hotel conference room walls which seem scientifically engineered to repel any adhesive. They are double-sided, erasable, and waterproof, with no bleed-through. They are also easy to re-arrange and they never lose their stickiness.
My Slicky Notes would be useless without my trustySharpie ($15, 12ct). I use the retractable kind so I never have to worry about losing the cap. The make a nice bold, visible mark on the Slicky Notes.
01/6/21
(What's in YOUR bag? We want to hear about unusual and unusually useful items that you carry in your bag. We are especially interested in the specialized bags of doctors, athletes, repair techs, artists, gardeners, hikers, etc. Start by sending an email to claudia@cool-tools.org with a photo of the things in your bag (you can use your phone). If you get a reply from us, fill out the form. We'll pay you $50 if we run your submission in our What's in my bag? newsletter and blog. — editors)