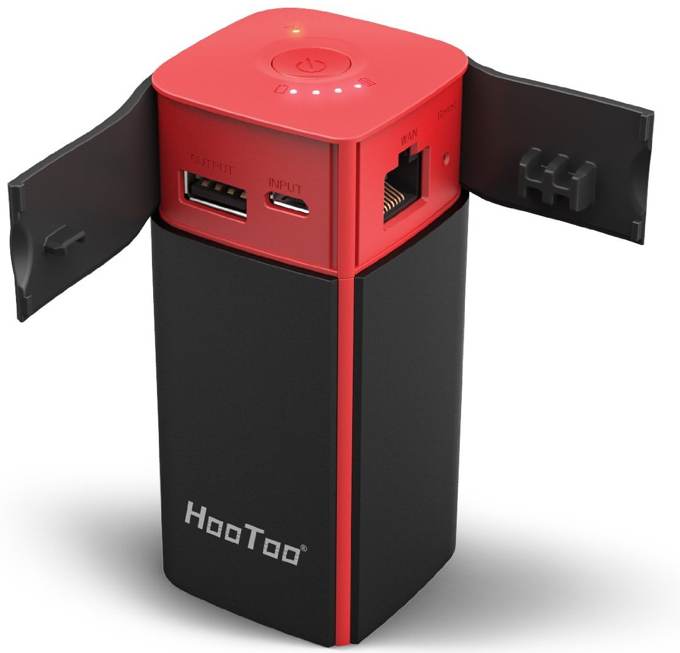 Streams videos, photos, and music to connected TVs, media players, and smartphones
I have been using these for about 18 months now. I got the original Tripmate Router to solve two problems:
Work around hotels only giving me free WiFi to one device and charging for the rest – this allows me to connect the Hootoo in travel-router mode and connect all my other devices to IT. I get Internet for all my devices and hotel only sees one device connecting.
The HooToo also allows me to use files from USB flash drive I plug into the HooToo. In effect, I get external storage expansion for my Phones and tablets, enough to store as much music and movies as I want, and
still only pay for 16GB phones. The cost of the Hootoo plus a 64GB USB flash drive is still cheaper than buying a larger capacity units (in my case, iPhone, iPad, Nexus 5, and Nexus 7 – all bought at minimum storage level). The company provides free apps for both iOS and Android to access the files on the flash drive. As a side-effect/bonus, you can easily share files between units, and it's possible to have two tablets accessing different files on the HooToo at the same time (e.g., Two kids each seeing a different movie on a car trip from a single Disk-on-key plugged into one of these – no Internet connectivity necessary)
All 3 models have the same travel-router and external storage functionality, and share the same software and manual (The manual is surprisingly well-written in English, not Google-translated from Chinese). The differences are:
The Nano model ($17) is VERY small and light, but needs a USB connection (from a computer or a phone-charger) to give it power
The Wireless Travel Router model ($40) has a built-in 10400mAh battery. You can use it without being connected to any power source (e.g. on a plane, in a car). It can also be used to charge a phone using a USB cable.
The Elite version ($40) can be plugged directly into a 110V power socket, and can itself serve as charger for your Phone/Tablet.
So choose the one you want based on whether you need the self-contained battery/backup battery or use-as-a-charger functionality.
As a final note – The company's customer-service seems exceptional. They contacted me after each purchase to see if I was happy with the unit, and responded to my comments and suggestions.
Full disclosure: I bought the Tripmate on amazon, and after giving it a good review the company gave me the "nano" version for free to evaluate (a $25 value). I have subsequently bought two of the "elite" version to give as gifts. I have no connections to the company otherwise – just use and like the items.
02/2/16