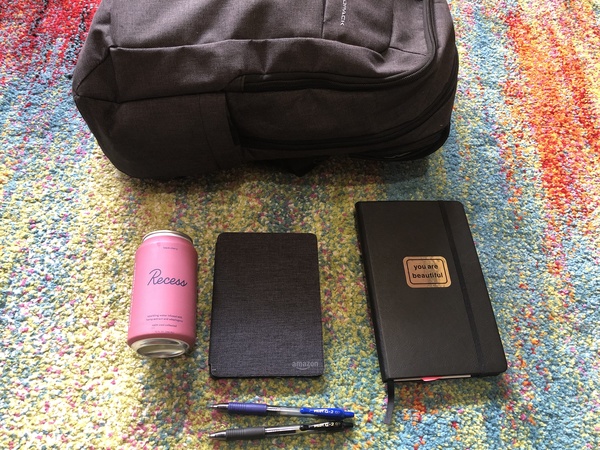 What's in my bag? issue #89
Sign up here to get What's in my bag? a week early in your inbox.
Jessica L. Williams, aka Tech Biz Gurl, believes that you can love your 9-5 and have a business. Her days include a mix of doing Strategy at &yet and Experience at SDI Presence. She is the creator of #jesspicks, a weekly newsletter featuring practical resources and tips for side hustlers. You can find her on Twitter @techbizgurl.
About the bag
KOPACK Lightweight Laptop Backpack ($36)
For a long time, I carried a tote or shoulder bag to and from the office, but I started to have issues with my shoulder and realized it was time to distribute the weight. I wanted a backpack but one that could hold all the things I needed (including my laptop) without feeling super bulky. After a bunch of recommendations from Facebook friends, I chose this one. It has multiple compartments, hides my computer, and even when I have it wayyy too full, it's very comfortable to carry. There is also an external USB port that you can use to connect to a power bank in your bag for charging your phone on the go.
What's inside the bag
Recess Sparkling Water ($5 each)
I saw Recess in a list of CBD water products and immediately fell in love with their brand and their whole idea of capturing the "cool, calm, and collected" feeling in a can. I started with their sample box, and everything from shipping to the taste of the water made me a fan. It's great to drink as an afternoon pick me up and helps me to relax and focus. Peach Ginger and Black Cherry are my two favorites. If you want to give it a try, you can use code TECHBIZGURL to get 15% off your first order.
Amazon Kindle Paperwhite ($130)
I love to read and have discovered it's an essential part of my self-care practice. The Kindle Paperwhite is excellent because it's easy on the eyes and has a backlight. So there has been a time or two I've read it in the dark before going to bed. My goal for the year is to read 28 books, and in this world of overwhelm and so much going on, I love the fact that it helps me do one thing: read.
Pilot G-2 Retractable Gel Pens ($16, 10pk)
I think I discovered these Pilot G-2 pens back in high school. I love the way they glide across the page. If you ever see me buying a pen, most likely it's one of these in blue or black ink.
Bullet Dotted Journal
I have tried many to-do and task management apps, but nothing has stuck, like bullet journaling. I kept hearing about the concept, but it felt "too creative" for me. This article helped me set up a bullet journal in less than 30 minutes, and I have been using it since to keep track of my tasks and notes. These journals are great, and the dotted grid gives me a lot of flexibility in using my pages.
02/17/21