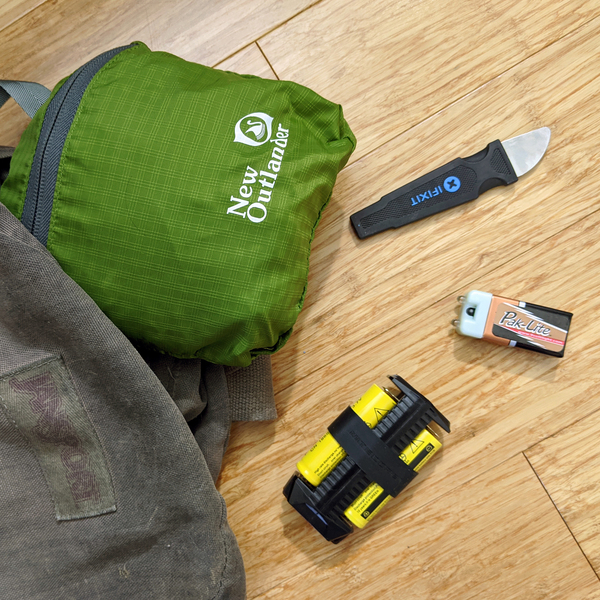 What's in my bag? issue #41
Sign up here to get What's in my bag? a week early in your inbox.
Sean Michael Ragan is an author, an entrepreneur, and a former editor of MAKE Magazine. His books include The Total Inventor's Manual, How to Use a Breadboard, and the forthcoming Breadboard 'Bots. When he's not out in the shop, Sean moonlights as co-host of the Cool Tools YouTube channel. You can find him on Instagram @seanmragan, Twitter @seanragan, and Facebook @seanmichaelragan.
About the bag
I'm still using the same JanSport Right Pack backpack I bought 20 years ago at the college campus bookstore! Then as now, JanSport bags come with a lifetime warranty and I've sent this one back to the factory twice now to have busted zippers repaired. Only thing I'd do differently is buy black instead of tan, so as to not show so much dirt!
What's inside the bag
Outlander Ultralight Packable Backpack ($18-$34)
Probably the handiest thing I keep in my bag is … another bag! The Outlander stores inside-out in its own sewn-in zippered stuff pouch so it takes up as little space as possible when you don't need it. And when you do, it unfolds into a full-size backpack that's waterproof, lightweight, and super tough. I've had mine for four years, almost half of which time I used it as my regular-duty backpack. It's great for those inevitable situations when I have to carry more stuff on the way out than I did on the way in.
iFixit Jimmy Opening Tool ($8)
One of the many ways consumer electronics have become less repair-friendly in my lifetime has been the shift away from case screws toward hairline flexural snaps that have to be prised open. And if you want to have any hope of closing the case up again afterwards, a flat-blade screwdriver is the wrong tool for this job. The "Jimmy" is a piece of thin spring steel with dull edges (so it doesn't cut or scratch stuff) and polished faces (that slide easily into narrow openings) mounted in a comfy elastomer handle that makes it easy to maneuver.
Pak-Lite 9V LED Flashlight ($24)
The classic US-made clip-on 9V flashlight. Unlike the Chinese knock-offs, the Pak-Lite's electronics are potted in clear epoxy, so it's waterproof even to the point of full immersion. The one I carry has a glow in the dark case, which is actually self-energizing. So even if it's been out of the sun all day, once you manage to find it and turn it on, the glow-in-the-dark plastic will charge up just from the light of the LEDs themselves and will continue to glow for several minutes after you shut it off.
Nitecore F2 USB Battery Charger / Power Bank ($19)
I keep at least one charged USB power bank around all the time in case my phone or tablet runs out of juice, and though there are lots of options in this space, I really like the Nitecore F2, because it's inexpensive, lightweight, and uses removable 18650 lithium-ion rechargeable cells. So you can use it as a flashlight battery charger or a power bank, and unlike sealed power banks, the cells are easily replaced when they start to short-cycle. Multiple F2s can be daisy-chained or even connected in a circle for charging (if you're short on power outlets) or for discharging (if you need more amp-hours than you can get out of one unit).
03/18/20