Ask
Expert Perspective:
Recent talks/interviews with Rich Luker (ESPN Sports Poll, Luker on Trends)
Results
State of Sports for Gen Z Kids: Building Lifelong Affection in a Hyper-Competitive Market

Generation Z kids are bombarded by a tsunami of highly accessible and enticing alternatives to sports each day. What effect will this have on the long-term outlook for the professional sports industry? How can the sports industry adapt to this reality in a manner that builds a relationship TODAY so that kids will be engaged with sports tomorrow?
Rich Luker, the Founder of the ESPN Sports Poll, and Terence Burke, SVP of Research and Editor-in-Chief of KidSay's Trend Tracker report, will describe a new alliance of the two groups and present the first, ever, "State of Sports for Generation Z" convergenceing kids from 5-17.
From Pokemon Go to Esports: Lessons and Opportunities

At the 2017 Project Play Summit, experts weigh in on how to assure more free play for kids through technology. What lessons can be learned from the popularity of Pokemon Go and esports? Moderating the session is Jeremy Goldberg, President, LeagueApps. Panelists are Angela Ruggiero, Co-Founder/Managing Director, Sports Innovation Lab; Chris Kluwe, Former NFL Punter; Vikram Grover, Senior Director of Business Development, Niantic; and Rich Luker, Founder, Luker on Trends.
Ask
Qualitative Discussion:
Evolution of esports
Results
Gamelab Barcelona 2017 – Mike Sepso – Shaping eSports right
YouTube
Mike Sepso is Senior Vice President of Activision Blizzard where he runs Media Networks, a division devoted to creating the best esports experiences for fans across games, platforms and geographies. Prior to joining Activision Blizzard, Mike was the co-founder and president of Major League Gaming (MLG), a global leader in esports, focusing on strategy, key partnerships, corporate development and overseeing all product and technology development, including the launch of MLG.TV. In his conversation with Dot Esports journalist Thiemo Bräutigan, Mike goes through Activision Blizzard's Esports strategy for the comming years, and comments on the latest news around the Overwatch Global League.
"Esports: Big Buzz or Big Business?"
Hashtag Sports, June 2017
YouTube
Leading executives from the world of sports business, consumer brands, media and technology engage in a lively debate on whether the industry will deliver on its $1bn promise or, as some predict, will prove to be a false dawn for the sector and its investors. A panel of experts will discuss how the emergence of eSports as a global mainstream phenomenon is driving their own strategies, be it as a marketing vehicle or an investment prospect, while also dissecting the argument of those who doubt the long-term commercial value of the eSports ecosystem.
"Booming business of esports sets sights on conquering mainstream audiences"
VentureBeat, February 12, 2018
"League of Lawyers: Esports is creating a new class of white-collar jobs"
VentureBeat, February 6, 2018
"The Esports Playbook"
Nielsen launched an Esports division in August 2017. Their inaugural audience report includes a final chapter called "What's Next" which talks about the future of esports on linear TV, as well as the future for VR/AR esports.
"The who, what and why of the World Esports Association"
Polygon, May 2016
Discussion of the formation of the World Esports Association, a league representing competitions organized by ESL (a tournament organizer), and focused only on one game (Counter-Strike: Global Offensive) at the time of launch. One of the goals of the organization is to further professionalized esports by introducing player representation, standardized regulations, and revenue sharing for teams.
Ask
How Many:
Professional esports players (pro gamers)
Contrast with BLS data for professional athletes
Results
*
The esports players figures above do not reflect the newly developing esports leagues, of which there are at least 3:
Overwatch League (OWL) – 12 teams with 6-12 players per team
NBA 2K League – 17 teams with 6 players per team
eMLS – 19 teams (details are thin, more forthcoming)
OWL, which is being launched by game publisher Blizzard, will pay a minimum salary of $50,000 per year, with players signing up for one-year contracts at a time. On top of the base wage, players will get a share of any bonuses the team accures. Half of all tournament prize money secured by a team will be shared between the players. Teams can have between six and 12 players…There are currently seven teams in the Overwatch League, drawn from cities across the US, along with a pair of teams from South Korea and China.
src:
TechRadar, July 2017
"Want to be a pro gamer? This is what you could earn playing Overwatch"
More info on the owners and affiliated cities is reported by Engadget.
The NBA is partnering with the developer of the NBA2K game franchise to create an esports league, which will be called "NBA 2K eLeague." According to the NBA, each of its 30 teams will eventually have its own eSports squad, just as they're represented in the WNBA or the lower-tier D-League. Every 2K eLeague team will be made up of five human players, which the NBA plans to treat the same way it does athletes who play for the San Antonio Spurs, New York Knicks or any of its other NBA, WNBA or D-League clubs. There will be contracts and endorsement deals at stake, for instance. The main difference here is that there's room for more diversity, since these pro players can be of any age, gender or race to play on the same court — even if it is a virtual one.
src:
Engadget, Feb 2017
"In the NBA's eSports league, diversity means a new kind of athlete"
The NBA 2K League Qualifier took place in January, 2017.
An 85-person draft was created.
17 teams will be created at first.
Competitive salaries and benefits, plus additional options for more earnings
src:
Forbes, Dec 2017
"NBA 2K League: How To Qualify, Salary Info, Draft Process, Twitter Account, Rules And More"
*
Even before the three leagues described above launched, there have been very popular esports teams with some team members earning their livlihoods through tournament earnings, streaming income, and other play-related earnings (eg: team salaries and room and board).
Neilsen ranks the 7 most popular esports teams in the US as: Cloud9
Optic Gaming
Team Liquid
Fnatic
SK Gaming
Counter Logic Gaming
Ninjas in Pyjamas
srcs:
Nielsen, 2017.
"The Esports Playbook"
As an example, Cloud9 fields teams for 11 games. As of the time of publication for this blog entry, their 11 teams include 12 American players, as well as 6 American staff members (eg: coaches).
League of Legends: 7 American players, 2 American staff
Counter-Strike:Global Offensive: 5 American players, 3 American staff
Hearthstone: 1 American staff
*
Here's a bit of general commentary from Sports Illustrated:
The current state of professional gaming mirrors the beginning days of the NFL and NBA. In those league's inchoate stages, players often had to work other jobs to supplement their seasonal salaries. Even today, some professional athletes—like pro lacrosse players—hold other jobs to bolster their income. The same is true for most professional gamers.
Still, 18 gamers made more than $500,000 in esports prize money alone last year, and 195 made more than $100,000. Similar to professional golfers and tennis players, prize money makes up only a portion of the top gamers' yearly income. Some are paid salaries by their teams, and many parlay massive followings built from live-streaming their gaming sessions into sponsorships with game equipment and manufacturing companies.
The number of full-time professional gamers is, as of right now, modest. But if esports stays on its path toward mainstream appeal and the sponsorship and TV dollars continue to flow in, it won't be long before dozens of gamers are making more than $1 million every year. In 2017, we'll take a step closer to that reality.
src:
Sports Illustrated, Feb 2017
"What to expect from the booming esports industry in 2017"
*
Here's commentary from 2013 on the number of pro gamers:
Being able to subsist solely on a pro gaming salary is a lofty dream indeed. "Business Insider" and e-Sports Earnings reported that only 60 professional gamers worldwide have earned more than $100,000 in prize money, as of 2013. Speaking to "The New York Times" in 2012, Sundance Giovanni of Major League Gaming estimates that "only about 40 people in the U.S. can make a living playing video games. I'd like to get it to a hundred. I think we're a year or two away from that."
src:
Chron, 2013, citing NYT (inferred via archive.org)
"Salaries of Pro Gamers"
*
Here's a bit of a profile of a pro gamer:
There's a reason why eAthletes are so competitive—their job is easy to lose. As fun as the perks might sound, for Towey, Evil Geniuses, and hundreds of other pro gamers, the eSports life is a grind, not some glamorous dream job. Tournaments aren't always enough to pay the bills—especially if you don't win. That's a big reason that some eAthletes, such as Ryan "State" Visbeck, use streaming to pay the bills.
Visbeck is a 23-year-old professional player of StarCraft II, a strategy game in which players control whole armies rather than controlling a single character as one would in Halo. As a "freelance" pro player—one who isn't currently tied to a particular pro team—Visbeck spends his days broadcasting his StarCraft II games on streaming service Twitch. The service allows fans to watch Visbeck's games live as he plays them, and also includes a chat function so they can interact with one another and the pro himself. Visbeck earns money through Twitch streaming subscriptions, which give viewers perks like special chat icons and access to his slate of recorded videos, as well as fan donations. It's enough to support him as he lives in South Korea, where StarCraft has been extremely popular for more than a decade. Originally from California, Visbeck moved abroad to train with a pro StarCraft team in 2013 and has lived there ever since.
src:
ComPlex, Aug 2016
"eSports Ain't Easy: Inside the Everyday Grind of Pro Gaming"
Ask
Extrapolate NFL ticket prices (and other major sports ticket prices)
Contrast with Esports ticket prices
Results
Note: This is all historic data. Some of this could be extrapolated, but we'd need to estimate some data values.
*
Average Ticket Price 2003-2012 for MLB, NBA, NFL, NHL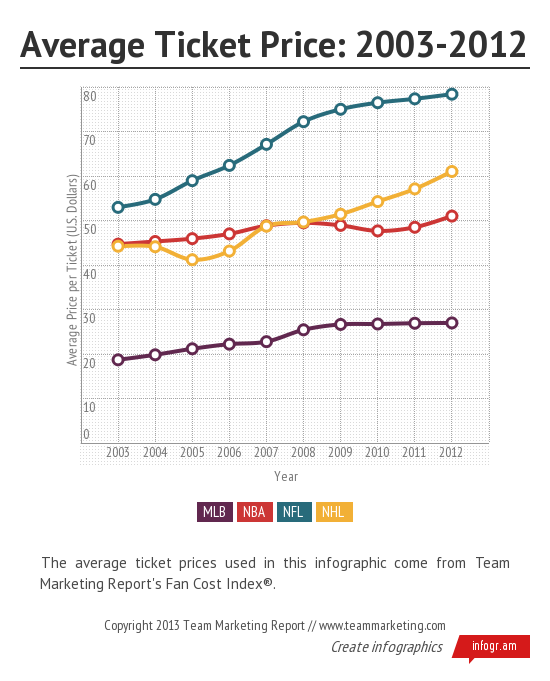 src: someone using Team Market Report data
*
Ticket prices for traditional championship games 2011-2018

src:
VividSeats, February 2017
*
Avg NFL ticket prices 2006-2016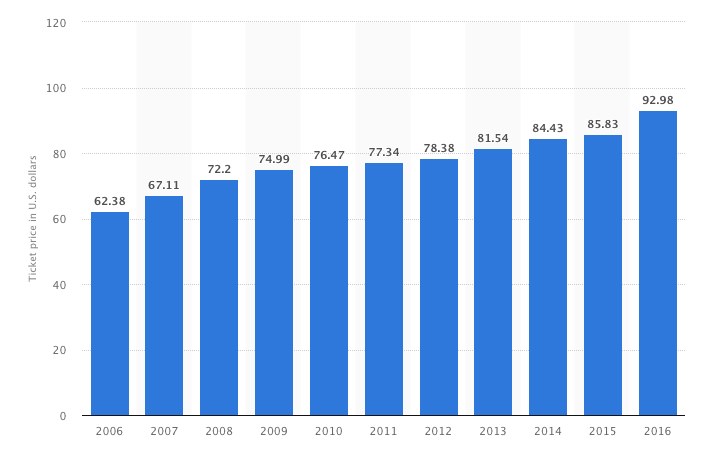 src:
Statista citing Team Marketing Report
*
Fan Cost Index 1991-2016
Fan Cost Index includes:
Two adult average price tickets
Two child average price tickets
Four small soft drinks
Two small beers
Four hot dogs
Two programs
Two adult-size caps
Parking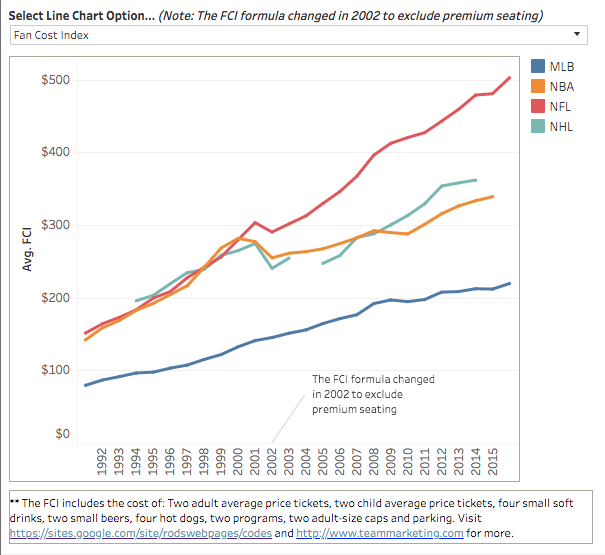 src:
Russell Scibetti, The Business of Sports, Feb 2017
using data from Team Marketing Report
Note: Scibetti also points to another source for aggregated sports business data, by Rodney Fort, Professor of Sport Management at the University of Michigan.
*
Here is a sample of recent ticket prices for major esports tournaments:
2016 League of Legends semifinals
New York, Madison Square Garden
$57-$75
src
2016 League of Legends Championship Series
Los Angeles, Staples Center
$46.50-$71/ticket
src
2017 League of Legends semifinals
Shanghai, Shanghai Oriental Sports Center
$26-$70 (limited number of international tickets)
src
2017 League of Legends Finals
Beijing, Beijing National Stadium (Bird's Nest)
$41-$185
src
2018 North American League of Legends Championship Series – Spring Finals
two day event
Miami, The Fillmore Miami
$35-$65 for one day
$65-$110 for two days
src
2017 The International Dota 2 Championship
Seattle, KeyArena
$100-$200/ticket (multi-day event)
src
2017 Hearthstone Championship Tour's Summer Championship
Blizzard Arena Los Angeles (450 capacity)
$15 single day
$40 full weekend
src
Ask
Extrapolate total revenues for esports vs. total revenues for conventional sports
Results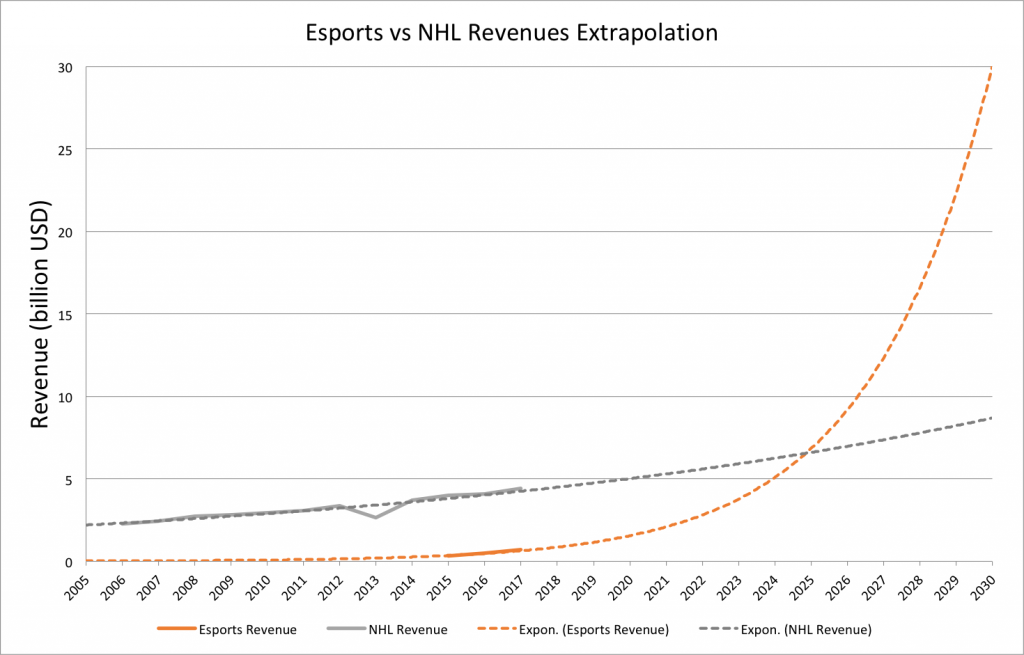 Source for Esports Revs:
BizInsider, March 2017
citing New Zoo
Source for NHL Revs:
Statista
*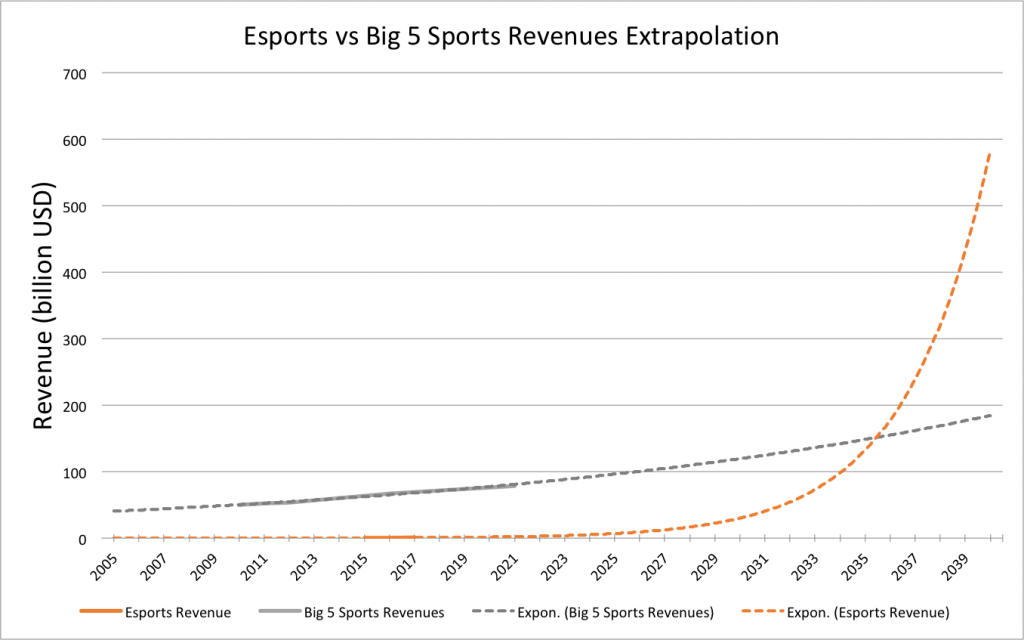 Source for Esports Revs:
BizInsider, March 2017
citing New Zoo
Sources for Big 5 Revs:
PwC Sports Outlook, October 2015 (for 2010-2011)
PwC Sports Outlook, October 2017 (for 2012-2021)
*
CC's creation notes:
Excel file in One Cloud: Esports-vs-NHL-Rev-Extrapolations.xls
Chart photos in DropBox: Esports-vs-NHL-growth-curves.png
Esports-vs-big5-growth-curves.png
cc-wfh-notes – official-future – flip-point-charts
Using "Growth Trend" values projections in Excel
Instructions:
Select at least two cells that contain the starting values for the trend.
Hold down the right mouse button, drag the fill handle in the direction that you want to fill with increasing values or decreasing values, release the mouse button, and then click Growth Trend on the shortcut menu.
Resource for creating highlights on flip-points
Back to Top