Ask
Extrapolate NFL ticket prices (and other major sports ticket prices)
Contrast with Esports ticket prices
Results
Note: This is all historic data. Some of this could be extrapolated, but we'd need to estimate some data values.
*
Average Ticket Price 2003-2012 for MLB, NBA, NFL, NHL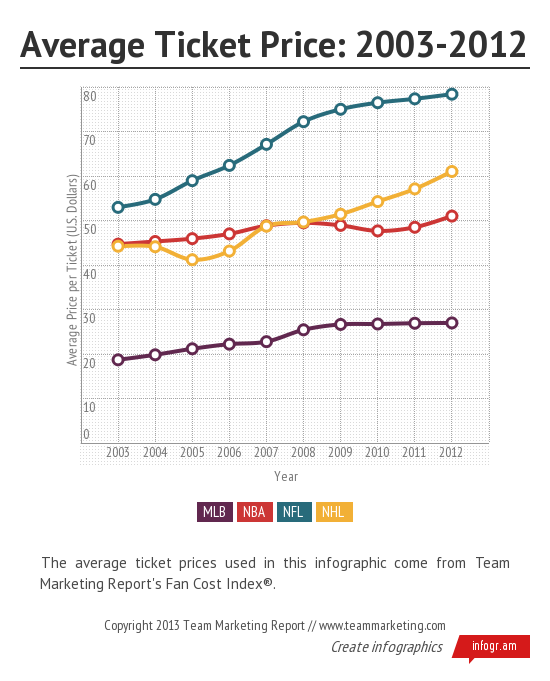 src: someone using Team Market Report data
*
Ticket prices for traditional championship games 2011-2018

src:
VividSeats, February 2017
*
Avg NFL ticket prices 2006-2016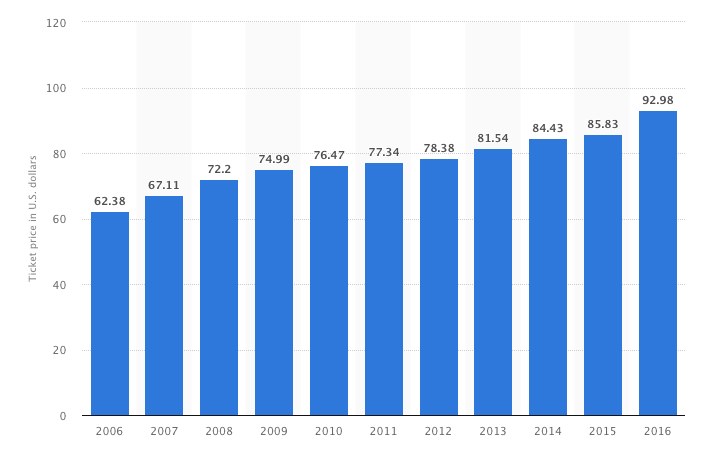 src:
Statista citing Team Marketing Report
*
Fan Cost Index 1991-2016
Fan Cost Index includes:
Two adult average price tickets
Two child average price tickets
Four small soft drinks
Two small beers
Four hot dogs
Two programs
Two adult-size caps
Parking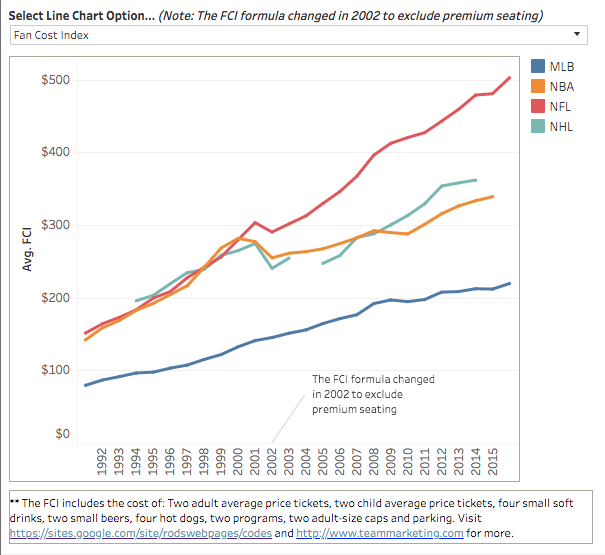 src:
Russell Scibetti, The Business of Sports, Feb 2017
using data from Team Marketing Report
Note: Scibetti also points to another source for aggregated sports business data, by Rodney Fort, Professor of Sport Management at the University of Michigan.
*
Here is a sample of recent ticket prices for major esports tournaments:
2016 League of Legends semifinals
New York, Madison Square Garden
$57-$75
src
2016 League of Legends Championship Series
Los Angeles, Staples Center
$46.50-$71/ticket
src
2017 League of Legends semifinals
Shanghai, Shanghai Oriental Sports Center
$26-$70 (limited number of international tickets)
src
2017 League of Legends Finals
Beijing, Beijing National Stadium (Bird's Nest)
$41-$185
src
2018 North American League of Legends Championship Series – Spring Finals
two day event
Miami, The Fillmore Miami
$35-$65 for one day
$65-$110 for two days
src
2017 The International Dota 2 Championship
Seattle, KeyArena
$100-$200/ticket (multi-day event)
src
2017 Hearthstone Championship Tour's Summer Championship
Blizzard Arena Los Angeles (450 capacity)
$15 single day
$40 full weekend
src
Back to Top