Usage Trends
The CDC tracks U.S. dietary supplement usage (which includes multivitamins and multiminerals) via its National Health and Nutrition Examination Survey (NHANES), which began in the 1970s. In 2011, the CDC said over half of U.S. adults were taking dietary supplements.
Overall usage trend:
Usage prevalence percentages for adults over 20:
Year
Men
Women
1971-1975
28%
38%
1976-1980
32%
43%
1988-1994
35%
44%
1999-2000
47%
56%
2003-2006
47%
59%
Vitamin D use by age group and gender:
Srcs:
Gahche J, Bailey R, Burt V, et al. 2011. "Dietary Supplement Use Among U.S. Adults Has Increased Since NHANES III (1988–1994)." NCHS data brief, no 61. Hyattsville, MD: National Center for Health Statistics.
Madison Park. 2011 April 13. "Half of Americans Use Supplements." CNN.
Market Research
Euromonitor tracks the vitamins and dietary supplements (VDS) market. In 2013, they estimated that the market would grow at a CAGR of 4% between 2013 and 2018 to reach $112 billion in 2018.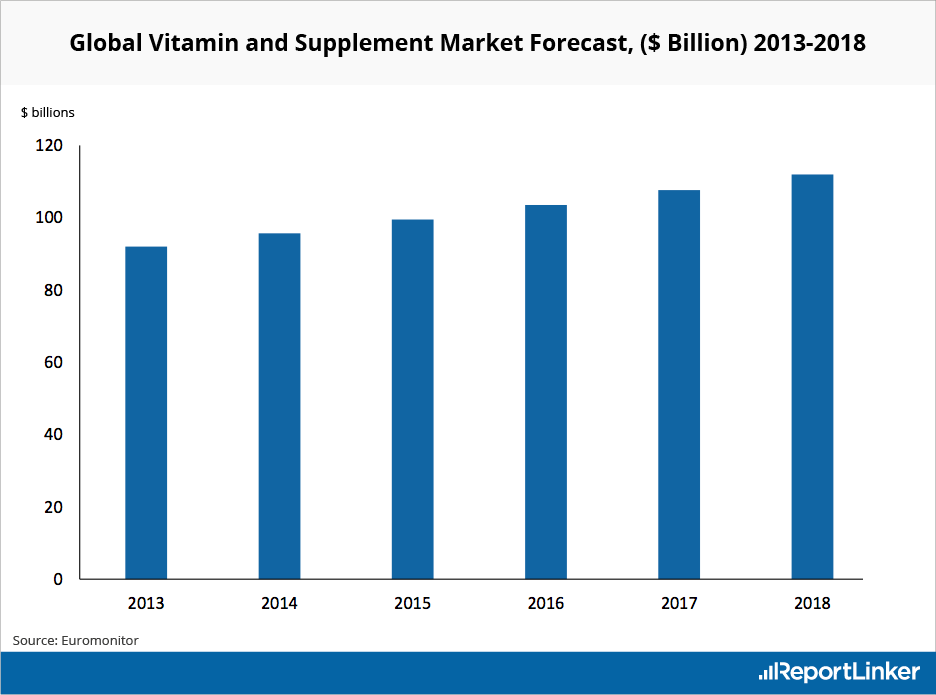 Src:
Euromonitor (via Reportlinker). 2013. "Global Vitamin and Supplement Industry Overview."
Back to Top